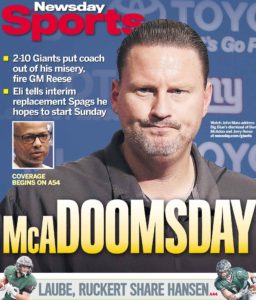 Midstream, the New York Giants are changing horses. This defies proverbial wisdom, though it certainly doesn't go against sporting custom. When a team loses 10 of its first 12 games, as the Giants have, the coach is susceptible to the heave-ho, an incomplete season notwithstanding. But with no guarantee that things will get better before they get worse.
I have seen this movie more than once in my nearly half-century as a sports journalist. Most similar to this week's developments, there was 1976. Then-Giants owner Wellington Mara declared that "changing coaches in midseason always has been repugnant to me, because I've always felt that is a cop-out by management to pin the shortcomings on one man."
Even as he spoke, Mara nevertheless had given coach Bill Arnsparger his pink slip a week before Halloween. The team was 0-7.
The best rationale for the move, Mara admitted, was that the players might respond to "another personality." Certainly Arnsparger's replacement, the personable John McVey, was a breath of fresh air compared to the intense, insecure Arnsparger.
The Giants lost their next two games, anyway, finished the year with four losses in seven games under McVey and won only 11 of 30 over the next two seasons before he, too, was let go. Proving two things: 1) That the Giants needed better players as much as they needed a different coach, and 2) Years of scholarly research and psychological interpretation correctly have predicted that the time-honored mid-season coaching shakeup is a 50-50 bet, at best.
Now we have Steve Spagnuolo, who has just replaced Ben McAdoo to lead a team fairly decimated by injury and deteriorating confidence. And good luck to Spagnuolo.
As just one example, a year-old study in the Economist, with graphs and charts and a numbing collection of numbers, analyzed performance effects of in-season managerial changes over 15 years in soccer's English Premier League. "We find," authors of the study wrote, "that some managerial changes are successful, while others are counterproductive. On average, performance does not improve…."
When the New York Islanders switched coaches early in the 2010-11 hockey season, I called sports psychologist John Murray—who has worked with coaches and athletes in all professional sports—for his take on this retooling process and got the same response. "I do believe there are benefits to novelty [of a new boss' voice]," Murray said. "But you can't substitute [player] quality."
As far back as 1963, a fellow named Oscar Grusky, for a Journal of Sport Behavior paper, examined managerial changes in baseball and found a "negative correlation" between replacing the team's skipper and its won-lost record. Grusky's interpretation was that the manager/coach replacement process for a struggling team "is also disruptive to the organization. The uncertainty associated with a new leader with a different agenda and new ideas may result in even poorer sport team performance."
There's another factor at play. That is, "You can control performance," Murray said, "but you don't control the outcome in sports." Statistics and maximum performance by a team's players do not necessarily translate into winning.
Neither does a coach's past success predict the best results in a different situation. Arnsparger had come to the Giants with the reputation of being a "defensive genius" and two Super Bowl rings, but seemed completely lost as a head coach. McAdoo had gotten the Giants' job last year based on his top-notch work as an offensive coordinator.
A couple of years ago I asked John Mara, Wellington's son and now half-owner of the team, about the science—or is it art?—of finding a great boss. "Sports is different," he said, "because the person has to be strong enough for being constantly in the spotlight, having every one of his decisions criticized and talked about on sports talk radio.
"You don't have to have Albert Einstein, but it's good to have someone with some intelligence. And not someone who thinks he knows it all." John Mara quoted the late George Young, five times the league's executive of the year who had turned the team around in the 1980s after John's father signed him as general manager.
"You hire somebody with a high energy level. And something to prove."
And hope the new horse can swim.