What Paul McCartney is doing on his current concert tour has got to be some kind of record. At 75, Sir Paul—still not grown out of his rock-'n'-roll bona fides—continues to conjure a whole range of ballads, anthems, ditties, blues, heavy metal and sing-along stuff.
My wife and I took in his first of two appearances at Brooklyn's Barclays Center last week, when McCartney cranked out three full hours of non-stop crooning and warbling and belting out of the brilliant material he has composed over more than a half-century.
Of course a good time was had by all in the sellout crowd. Of course the evening was a comfort to those of us who came of age during Beatlemania. I won't go into my old (probably not winnable) argument that my generation's music was better than the current fare. (Even though my daughter agrees.) But I will contend that McCartney, the act we've known for all these years, never has gone out of style.
Not everybody at Barclays was as, uh, mature as me. That has to count for something, both to legitimize my peer group's taste and as proof of the Fab Four's endurance. We've just passed the 50th anniversary of the release of Sgt. Pepper's Lonely Hearts Club Band album. It never gets old. This summer, Sirius XM satellite radio debuted a Beatles channel. I listen a lot (and know most of the words.)
A recital-related sidebar here: A week after the McCartney show, we took in celebrated tenor Jose Carreras' performance at Carnegie Hall. An entirely different scene, and I won't pretend to know much about the operatic mix of speech-inflected pieces and more melodic arias, and certainly couldn't translate the Italian and French lyrics. Still, it was Major League quality, another example of imperishable art. And Carreras, at 70, was another credit to undiminished power in our septuagenarian set.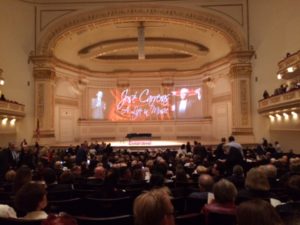 Anyway, McCartney opened with "A Hard Day's Night" at Barclays. I was just 17, in high school, when the movie came to Hobbs, N.M., in the mid-'60s, and the only disappointment was how so many young girls in the theater kept screeching when I was trying to hear the music.
He sang "In Spite of All the Danger," from the pre-Beatle days of John Lennon's group, the Quarreymen. He kidded that that was "before my time." Right. Me, too.
He offered tributes to departed Beatles Lennon and George Harrison, sang "Jet" and "Let Me Roll It" from his Wings' days, plus recent goodies "Queenie Eye" and "New." It was a nice time-warp tour.
Among his 40 offerings, he sang "Eleanor Rigby," and that took me back to a 1995 visit to Liverpool and the Beatles Story exhibition there, built at the restored docks on the River Mersey. We took a stroll on the alley-like Mathew Street, where the Beatles began their rise with lunchtime gigs at the Cavern Club, and took a moment for a quick snapshot of the Eleanor Rigby statue on Mathew Street—dedicated to "All the Lonely People" and looking particularly forlorn in the late afternoon shadows.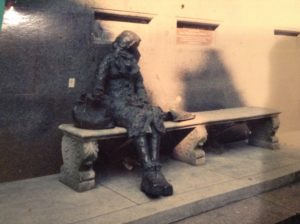 Years later, when my daughter was spending a college semester in London, we couldn't resist mimicking the Beatles' Abbey Road album cover crosswalk stroll. The optics in our picture are all wrong. We're crossing East to West instead of the opposite direction that was taken by the Beatles, and our camera was shooting to the South instead of North. But there was traffic to dodge. It had to be done.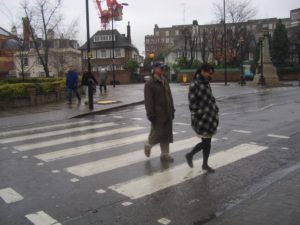 My wife now has concluded that our rock concert days may be over. It was awfully loud at Barclays, no doubt a function of modern audio capabilities and the need to reach the portion of the 17,000 paying customers in the nose-bleed seats. A smaller room likely would better highlight McCartney's vocals as well as his skills on the guitar and piano.
Wouldn't have missed it, though. I thought of some recent McCartney lyrics that fuse the present with the past.
    They can't take it from me, if they try
    I lived through those early days.
And we're all still here.