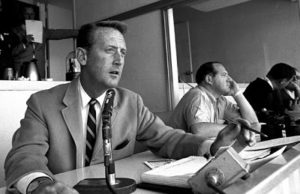 It was awfully nice of Vin Scully, in his farewell Dodger Stadium broadcast wrapping up 59 seasons in Los Angeles, to mention me. Well, sort of. "Since '58," he said of the team's first year on the West Coast, "you and I have really grown up together….the transistor radio was what bound us together.
"Were you among the crowd that groaned at one of my puns?" he asked. "Did you kindly laugh at one of my little jokes? Did I put you to sleep with the transistor radio tucked under your pillow?"
How did he know? In 1958, I was 11 years old. The Dodgers, with Scully in tow, had just relocated to L.A. from Brooklyn. My family had just moved to the L.A. suburb of Sepulveda in The Valley. My parents had just gifted me with a transistor radio, the modern marvel of that time, pocket-sized, which made it possible to listen to the Everly Brothers, Sheb Wooley ("It was a one-eyed, one-horned, flyin' purple-people eater") and Kingston Trio ("Hang down your head, Tom Dooley") while riding a bike to the local deli or the high school gym for some pick-up basketball.
Better than the music, though, that transistor delivered Scully's soundtrack of summertime, Dodgers play-by-play and storytelling that regularly meandered beyond baseball. His pitch-perfect combination of keen observation and verbal picture-painting, his silver-tongued accounts that somehow were simultaneously simple yet sophisticated, were a daily necessity.
So, yes, the transistor was a bedtime accessory. It was a traveling companion, and we Angelenos even toted our transistors to the games, to "see" Dodger baseball better through Scully's descriptions than with one's own eyes.
That was partly because, from 1958 through '61, the Dodgers' first L.A. home was the cavernous Coliseum, designed for Olympic track and football, which afforded lousy views of baseball action from roughly 75 percent of the seats.  But with Scully's voice emanating from all those transistors, reverberating in the vast stadium, nothing was missed.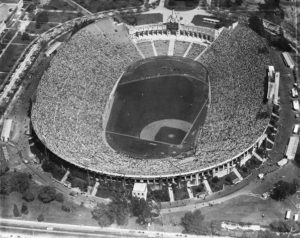 My family left L.A. in 1962, but my half-century of travels as a sports journalist occasionally brought me within the sound of Scully's voice, and that was a little like going home. In 1969, during my senior year at the University of Missouri's journalism school, I was assigned to cover a game between the Dodgers and Cardinals in St. Louis, and I recall my classmate Ernie Williamson—who hailed from L.A.—being more awe-struck to be standing near Vin Scully during batting practice than any of the ballplayers. (Me, too, actually.)
That spring, in my off-campus apartment, I somehow picked up a broadcast of the Dodgers' first game in Montreal against the new expansion team there. Scully was mulling mellifluously about that bilingual city, and how the word "gauche" was French for "left," but with the English translation of "awkward" or "tactless." Being left-handed, he playfully wondered if he should take offense.
I laughed at his little joke.
In 1972, I was back in Los Angeles as a raw Newsday reporter, covering a Mets game at Dodger Stadium. I procured a transistor radio to listen to Scully's call, and of course his observations and asides found their way into my game story. Made it far better, in fact.
He passed along news of Mets' infielder Rusty Staub's broken hand. ("For Le Grand Orange, this year has turned to a lemon.") He noted how Mets' call-up Dave Schneck, though off to a blistering Big League start with his bat, was guaranteed nothing in the future. ("It's like dirt at inspection time. If you have a weakness, boy, they'll find it, and they'll do the best they can to get you back in the minors.")
Schneck soon was back in the minors and finished his Major League career with a .199 batting average after barely 100 games.
In 1980, I was casting around for historical tidbits for a feature on sports lingo, and among the puzzlements was an old baseball expression I had heard for years, identifying an easily catchable fly ball as a "can of corn." My sources for the piece included several books, a few long-retired ballplayers—and Vin Scully.
Typically, he offered a pertinent tale, delivered by phone with the same familiar elocution and institutional knowledge that always flavored his broadcasts. "The first fellow I ever heard use that expression," he said, "was Arch McDonald, who was a pretty famous Washington broadcaster who came to New York and did the Giants games for a couple of years. Arch was a cross between W.C. Fields and Ned Sparks, and it came out, 'CAN o' corrrrrn!' But we're still debating the origin of that one."
I recall that my mother—no sports fan—sometimes would listen over my pre-teen shoulder when the transistor was tuned to Dodger games, drawn to Scully's often humorous yarns or personalized background notes that he slipped into the play-by-play. His was not a style limited to balls and strikes.
Which surely is why, in a farewell column for the Los Angeles Times last week, Bill Plaschke suspected, "Now that Vin Scully is leaving, we'll never again cheer so hard for foul balls."
Over the years, it wasn't Scully's great calls of special baseball moments that separated him from the pack, though those were routinely terrific. It was the endless flow of fascinating digressions and parentheses, shared as if with a nudge of the elbow to a pal. At his final Dodgers home game, that included his recollection of Gil Hodges' steel-like grip that could shape a ball for a pitcher, and brief reminiscence of meeting Babe Ruth as a young boy. Scully described the Dodger pitchers facing the meat of the Colorado Rockies lineup with, "There are some big mountains to climb in the range of the Rockies."
I did not groan at the pun. To the contrary.
Every semester, I play for my Hofstra University sportswriting students Scully's ninth-inning radio account of Dodger pitcher Sandy Koufax's 1965 perfect game, a gem of narrative detail. It not only portrays in vivid words each pitch but also the drama and tension, that there were "twenty-nine thousand people in the ballpark and a million butterflies;" that Dodger teammates in the bullpen were "straining to get a better look through the wire fence in left field;" that, for Koufax, "the mound must be the loneliest place in the world right now;" that, when fans booed a called ball, "a lot of people in the ballpark now are starting to see the pitches with their hearts."
It was the kind of riveting recitation that would keep a kid with a transistor under his pillow awake well past lights out.
Anyway, now Vin Scully is retiring, just short of his 89th birthday. That must mean I'm not 11 anymore.