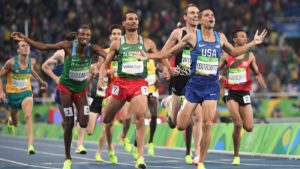 "Are you kidding me?"
It was a good question, one that Matthew Centrowitz said he put to "everyone I know" in the moments after he won the Olympic 1500-meter final, having shocked three-time world champion and 2008 Olympic gold medalist Asbel Kiprop of Kenya as well as the rest of the field. "Everyone" included Matthew's father, Matt Centrowitz Sr., who was celebrating wildly in the stands of Rio de Janeiro's Maracana Stadium as his son took a victory lap.
"Are you —– kidding me?" Matt Sr. shouted back. Whereupon the two commenced volleying the phrase back and forth.
Kiprop aside, it has been Olympic doctrine that Americans just don't come through in the so-called "metric mile," 120 yards shy of a mile, which vies with the 100-meter dash as the most appealing of track and field's events. The last Yank to prevail at that captivating Olympic distance, in 1908, was Mel Sheppard, a man whose application to become a New York City policeman somehow was rejected on the basis of a "weak heart."
So it could be said that, in Rio, Centrowitz's karma ran over Olympic prognosticator's dogma. A real dent in accepted belief. In 1912 (Abel Kiviat), 1936 (Glenn Cunningham), 1968 and 1972 (Jim Ryun), Americans were pre-race favorites based on the fact that they held the world record in either the mile or 1500—or both—entering the Games, yet repeatedly failed to win gold, until it became normal procedure. Other legitimate U.S. threats at the distance, Marty Liquori in the 1970s and Alan Webb in 2004, also succumbed short of Olympic glory to injury or strategic muddles.
Anyway, for those of us who began reporting on track and field happenings in prehistoric times, there were lots of echoes to young Centrowitz' breakthrough, beyond repeated Are-you-kidding-me astonishment. It was four decades ago that I covered a handful of Matt Centrowitz Sr.'s elite races, including his runner-up finish in the 1976 U.S. Olympic trials at 1500 meters and his victory in the 1980 trials at 5,000 meters.
(I also interviewed Abel Kiviat, by the way. Not during his 1912 Games in Stockholm. Rather, in 1982, when Kiviat was then the oldest living U.S. Olympian at 90, we chatted about his disappointment in losing the 1912 Olympic 1500 by a tenth of a second, and about his Olympic roommate, a fellow named Jim Thorpe, whom Kiviat remembered fondly.)
The senior Centrowitz is a native of The Bronx who had come to prominence at Power Memorial High School in Manhattan—basketball hall-of-famer Kareem Abdul Jabbar's school, since closed—and for one year at Manhattan College before transferring to the University of Oregon, then and now a track powerhouse. He was a genuine mile star in his time, having broken the school record of the late Oregon legend Steve Prefontaine, though Centrowitz' 1976 Olympic experience ended abruptly. He was eliminated in the first round, finishing sixth in his 1500 heat. And, in 1980, President Jimmy Carter's boycott of the Moscow Games left Centrowitz home with the rest of the U.S. team.
But maybe what's past is prologue. When the storied old Millrose Games downsized from a half-century of annual Madison Square Garden productions to Upper Manhattan's chaotic Armory building in 2012, a skinny lad named Matthew Centrowitz—recently turned pro after a career at the University of Oregon—brought down the house by winning the featured mile in a hot 3:53.92.
He didn't look that much like the Matt Centrowitz I remembered. A better tan. No mustache. Shorter hair. Finer features. But the kid could motor and, sure enough, it was—as the tattoo on young Centrowitz' chest proclaims—"Like father, like son."
It is unbecoming for a sports journalist to root for a team or individual athlete and, anyway, I didn't have time for cheering while cranking out a story on deadline that night. But in the Rio final, to watch Matthew Centrowitz' execution of an apparently risky, yet ultimately brilliant game plan—his dawdling early pace, his insistence on controlling matters from the front of the pack throughout the race, his blistering final lap—was good stuff. And to see his dad, a guy who has been in the arena, come essentially unglued with the result, was—I don't know—Olympic.
Are you kidding me?