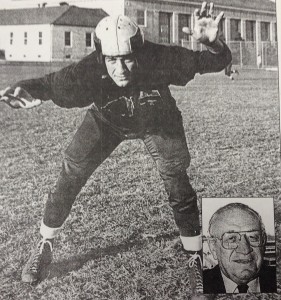 It was just last week that one of my Hofstra University journalism students, for his final paper of the semester, wrote a lament of the school's 2009 decision to disband its football team. "A Lost Program Gone But Not Forgotten," he called it.
And now comes the news that a central figure in both Hofstra and Hofstra football history is gone as well: James Shuart, dead at 85.
By the time Shuart retired after 25 years as University president in 2001, he had come to be a sort of Father Hofstra. He had Dutch roots, like the school itself. He had earned both his undergraduate and master's degrees at Hofstra. He had been one of the first 12 football players to receive a Hofstra athletic scholarship and was a member of the original Hofstra lacrosse team.
He had returned to his alma mater to work as admissions officer, faculty member, dean and vice president before assuming the presidency in 1976, at a time when the university was struggling financially. During his tenure, Hofstra increased enrollment, expanded academic offerings and library holdings, initiated presidential conferences, became the first private university campus in the nation to be fully accessible to the physically challenged, moved its athletic department into top-tier Division I and founded the school of communications—where I now work after 44 years as a reporter for Long Island's Newsday.
The year after Shuart retired, the football stadium was renamed in his honor. James M. Shuart Stadium still stands, but in 2004, the school's athletic nickname was changed, from Flying Dutchmen to Pride, and in 2009 Shuart's successor, Stuart Rabinowitz, did away with intercollegiate football for fiscal reasons.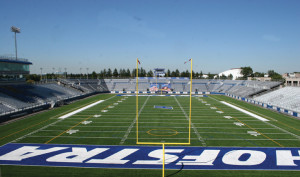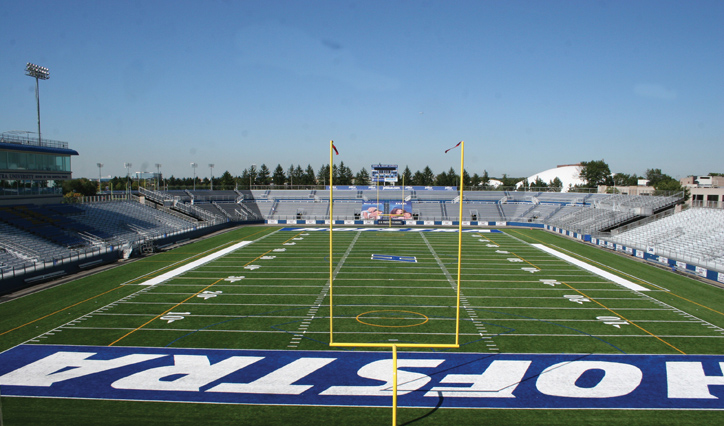 I am the first to acknowledge that, in the reality-based world of 21st Century college sports, it is difficult to rationalize the expense of fielding a football team at a small private school. Enormous costs for insurance, equipment and staff are virtually impossible to offset when there is none of the rabid spectator following or the massive television-fueled revenues of thoroughly professional powers such as Alabama or Ohio State.
Furthermore, it is not impossible to be a top-flight institution of higher education without a football team.
But it was sad to see the Dutch label ditched. Hofstra takes its name from William Hofstra, an early 1900s Long Island lumber magnate of Dutch heritage upon whose land the university is built. And Shuart told me, during a long interview shortly before he retired, how his surname "really is from the Dutch 'Sjoerd,' which means 'George' and was used as a last name when Napoleon insisted that people had to have last names. I'm one-quarter Dutch; one of my grandparents allegedly was Dutch."
When the teams were called the Dutchmen, Hofstra dressed a coed in a Dutch-girl costume as a mascot, complete with wooden shoes, and called her Katie Hofstra—after William's wife. (Hofstra still holds an annual spring Dutch Festival to showcase a campus flooded with tulips—another Shuart initiative.)
More to the point, Shuart epitomized the sound mind, sound body ideal in college, a "student-athlete" before the term was coined by the NCAA as a brand to rationalize the recruitment of jocks whose primary purpose was to win games and boost the salaries and resumes of coaches and athletic directors.
Shuart, a history major, was captain of the 1952 Hofstra football team his senior year, when Hofstra lost only one of nine games. That loss was to Alfred, when an Alfred punt took an odd bounce, glanced off a Hofstra blocker and afforded Alfred the fumble recovery that set up the winning score.
"We were so upset," Shuart recalled. "Young men—20, 21 years old—tears streaming down our faces." Hofstra's coach then was Howdy Myers, who in 1950—Shuart's sophomore year—had started the school's lacrosse operation.
"He called his first meeting of the football players that February," Shuart said, "and handed us gloves, a helmet with wires and sticks. He said, 'Gentlemen, this is lacrosse.' That was his spring training."
As president and after his retirement, Shuart remained a passionate Hofstra football fan until the sport was dropped, a fixture at the team's home games long before the stadium assumed his name. For years, a Jim Shuart Football Scholarship went to one of the school's players.
In 1999, when Hofstra advanced to the Division 1-AA football playoffs before losing to Illinois State, a star of the team was Long Island native Kahmal Roy, a sophomore wide receiver who had been granted one of those Jim Shuart scholarships.
"They never threw the ball to me when I played," said Shuart, who had been an interior lineman. "But when Kahmal scores a touchdown….oh, man!"