It's as if President Obama had spent three weeks with me and a handful of fellow American reporters in Cuba to cover the 1991 Pan American Games. That experience, while hardly an all-access look at the inner workings of the Castro government and its many faults, offered frequent glimpses of how the decades-old U.S. embargo of Cuba was failing miserably.
The U.S. policy hardly was putting a dent into Fidel Castro's grip on power, or his lifestyle, while it was bleeding the Cuban people white. The bearded old dictator, who once was considered a pitching prospect by the New York Giants before he led the 1959 Cuban revolution and commenced casting the United States as an evil empire, toured those Pan-Am Games in style, ferried around by a fleet of Mercedes.
Most citizens, meanwhile, lived in ramshackle buildings and had to stand in line for a daily ration of two loafs of bread no bigger than baseballs, as well as each family's once-in-every-nine-days schedule to obtain a chicken.
Communications with the outside world—telephones, television—virtually were non-existent, while Fidel enjoyed the good life: A basketball court on his presidential grounds and satellite dish, provided by Ted Turner in the mid-1980s, to watch NBA games at his leisure.
From the 15th floor of the Hotel Habana Libre, reporters' headquarters during the Pan-Am Games, Havana seemed a Caribbean paradise: Sun, palm trees and the shining Gulf of Mexico. But on the ground, tumbledown stores had 95 percent of their shelf space empty. Medical care was a top priority, one of Fidel's claims to fame, but sanitation was years behind the times. Streets were clean—no graffiti anywhere—and free of traffic, but that mostly was because there wasn't enough fuel to power all those 1950s Chevys or aging rattletrap Russian Ladas parked around the city.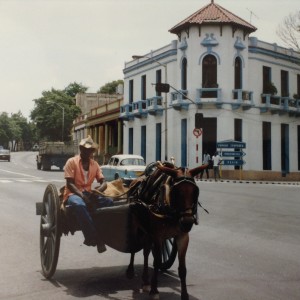 The freshest paint on most buildings appeared to be at least 25 or 30 years old. Everywhere were banners proclaiming "Socialism or Death," the principle of superiority Fidel claimed over decadent capitalism in the United States. In fact, though, "tourist apartheid" was in clear evidence, hardly a one-for-all and all-for-one utopia.
Visitors with hard currency, from Canada or Europe, were welcome at such resorts as luxurious Veradero Beach, two hours east of Havana, which felt like Hilton Head plopped in the middle of the Mississippi delta. Even in the midst of rundown Havana neighborhoods, where Cubans were stuck with virtually worthless pesos, tourists could patronize Ernest Hemingway's old hangout, the Floridita Bar, a living museum of the pre-revolutionary Cuba.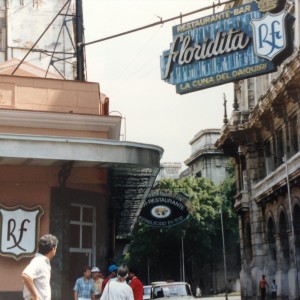 At the Floridita, built in 1916, small Cuban bands entertained in air-conditioning comfort (not available in the residents' shopping areas) among the polished red-and-black art deco and brass. What was completely out of reach for everyday Cubans—plentiful gasoline, food, shops, efficient transportation, with new Nissans and Suzukis to rent—was there for tourists.
A surprise was the complete lack of discomfort in being a U.S. citizen there. To the Cuban hoi polloi, John Kennedy was the devil, remembered for the disastrous Bay of Pigs invasion meant to overthrow Fidel, and later American presidents, too, were considered evil for sustaining the economic embargo. Cubans didn't see the point of a rich nation needing to strangle 10 million people just because they happened to live 90 miles from Florida.
Yet that didn't stop them from treating visiting Nordamericanos royally. Fellow journalist Jay Weiner and I, having hired a taxi to interview the only golf pro in all of Cuba, were invited by the cabbie—a junior high school teacher named Eduardo Azcue—to have coffee with him and his wife at his meticulously kept but well-worn home. We talked about family, not politics.
Certainly, there was paranoia among the citizens. Piddling little gifts from American reporters—left-over toothpaste tubes, shaving cream, cookies—were accepted with grateful tears by hotel maids, but only on the sly, as if it were some sort of illegal drug deal. While young kids along the Malecon, Havana's picturesque waterfront, begged for gum, older youths made it clear that speaking to foreigners would risk arrest.
At the Bay of Pigs—Cubans refer to the 1961 battle simply by the name of the small village there, Giron (pronounced HE-rone)—a small museum commemorates the event, framed by vacation cottages, an outdoor restaurant, the turquoise sea, white-sand beach, shade from orange-flowered flamboyant trees. A lovely, peaceful place to have a nice meal on the porch in benign breezes.
In a way, the Bay of Pigs was the Cubans' Pearl Harbor, a bloody invasion of an outside power. The U.S. lost that little war, and seemed—during that three-week adventure in 1991 by some possibly naïve reporters—to be losing the fight to do right by the Cuban people. Thus does the Obama call to restore relations with Cuba feel like a better path toward full human rights.