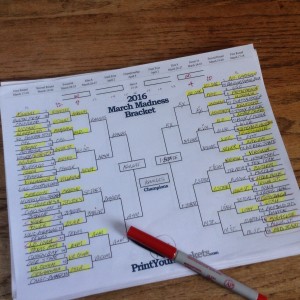 Bless the NCAA tournament's custom of upsets, all of which are great things (except when they victimize your team). If it weren't for Middle Tennessee State ambushing pre-tournament co-favorite Michigan State, Yale waylaying Baylor and Stephen F. Austin bushwhacking West Virginia over this year's first weekend, where would the madness be?
Each March, when the traditional rich-getting-richer powerhouses—the Kansases, Kentuckys, North Carolinas and Dukes—set about chasing yet another national championship and bigger television payday, the real charm is provided by the underprivileged. It is the presence of gypsies in the palace, unlikely to assume the throne but meanwhile smashing some of the fine dinner China, that expands the audience.
According to the 538.com Web site, the 2012 first-round victory by No. 15 seed Norfolk State over my alma mater, No. 2 Missouri, remains the biggest upset since the Big Dance was expanded to 64 teams in 1985. That's a moment I choose not to celebrate. Still, what is so appealing about the tournament is the sudden, sky-high growth by previously perceived pipsqueaks. Apparent finders of magic beans.
So, no offense to Norfolk State, but among my favorites were Valparaiso, George Mason and, 34 years ago, Middle Tennessee State's first iteration of its NCAA fairy tale. On that occasion, when the tournament still was limited to 48 teams, with 12 seeds per regional, I had been dispatched to Nashville by Newsday in anticipation of a second-round showdown between in-state powers Kentucky and Louisville, their first since 1959.
Louisville, as the Mideast Region's No. 3 seed, had a first-round bye, awaiting No. 6 Kentucky's assumed romp over the lightly regarded No. 11 seed snidely referred to as "Middle Tennis Shoes State." Kentucky's advance past Middle Tennessee was so likely that I left my portable computer in my motel room, across the Vanderbilt campus from the arena, with no plans of reporting on the game.
Naturally, Middle Tennessee won, 50-44—its first-ever NCAA tournament victory—prompting my mayday phone call to the office and a mile sprint back to my writing machine, on deadline, with the lead sentence becoming obvious as I ran: "Never plan ahead."
Middle Tennessee's coach then was an aw-shucks fellow named Stan Simpson, who recalled growing up in Georgia, "sitting up nights and listening to Cawood Ledford broadcast the Kentucky games on WHAS out of Louisville. Lord, I never thought I'd see this day."
In 1998, Valparaiso—a small, Lutheran-affiliated school in Indiana so little known that its proper pronunciation of Val-puh-RAY-so regularly was miscast in the original Spanish, Val-puh-RIZE-zo—rolled into the Sweet 16 despite its No. 13 seed. Against No. 3 Ole Miss in the first round, Valpo was trailing by two points when it in-bounded the ball under the Ole Miss basket with 2.5 seconds to play, executed a 60-foot pass, then a quick flip to Bryce Drew, whose 23-foot three-point basket shocked all concerned. Valparaiso in a most delightful way.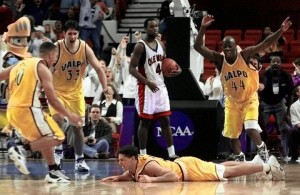 The personal downside to that uplifting development was that the crushed Ole Miss lads were coached by Robert Evans, a former high school classmate of mine in Hobbs, N.M. But that was offset, on a trip to Valparaiso the next week, when I encountered a community beside itself with giddiness. Valparaiso is the home of gourmet popcorn maker Orville Redenbacher, and its annual Popcorn Ball is described as the town's "adult prom," the biggest social event on the calendar. Yet that year, even Valparaiso's mayor skipped the Ball to be in St. Louis for the university's Sweet Sixteen game.
And Valparaiso's coach, Homer Drew—Bryce's father—told of how his son had turned down an offer from perennial NCAA tournament contender Syracuse to stay home with his dad's team, in spite of Syracuse coach Jim Boeheim's incredulous response: "Don't you want to play in the Big Time?"
"When I was an assistant of Dale Brown at LSU," Homer Drew said then, "I got to experience the Big Time. I've been coaching long enough to understand that fame is fleeting. I'm thrilled for my team, but you won't be here next week. TV won't be here. I'm just very blessed to have shared these four years with Bryce, because when fame is gone, family and friends will be there. That is most important."
They're still together at Valpo, too—Homer as associate athletic director and Bryce, since 2012, his successor as head coach.
Then there was the George Mason experience from 2006, when the school's basketball team, an at-large addition to the NCAA field and seeded 11th in its regional, levitated right to the Final Four by knocking off No. 6 Michigan State, No. 3 (and defending champion) North Carolina, No. 7 Wichita State and No. 1 UConn.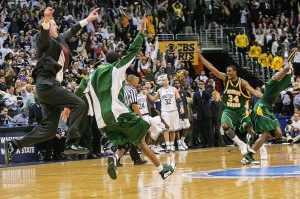 That run not only was a SportsCenter sensation and an underdog's public relations windfall, but prompted then-university president Alan Merten to conflate the achievement of George Mason (the school team) with George Mason (the man). The latter, already dead 99 years before basketball was invented, "was the true bracket buster," Merten gleefully informed me. One of the original American revolutionaries, a vigorous opponent of unrestricted power, an advocate for the little guy, Mason wrote Virginia's Declaration of Rights, the blueprint for the U.S. Bill of Rights. And he told his neighbor and friend, George Washington, that he could not bring himself to sign the U.S. Constitution because it lacked a stipulation to eliminate slavery.
"We're pesky," president Merten said then. "I love that word that's being used for our basketball team. As a university, too, we're annoying, like George Mason was. We're aggressive. We go by the rules but we don't do it the way it's always been done."
This is the beauty of March Madness: The insistence that we revisit assumptions.