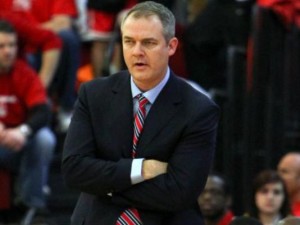 When Steve Pikiell arrived on Eastern Long Island's Stony Brook University campus in 2005, embarking on his first season as a head basketball coach in Division I, he had three small shelves installed in his office, one slightly higher than the other.
The lowest shelf was reserved for the game ball that would commemorate his first victory. (That souvenir appeared months later, on Jan. 2, 2006, in Pikiell's 10th game, after one of only four victories in 28 games that season.) The next shelf up was set aside for Stony Brook's first league title in Division I. (That was occupied on Feb. 24, 2010, with a victory over America East Conference regular-season runner-up Vermont.)
The top shelf was left empty for "that NCAA ball," Pikiell said shortly before his teams reached the first of five conference tournament finals in the last six years in 2011. "When the guys come in here and tell me how hard they're working," he said then, "I just point to that shelf and say, 'If you're working that hard, we'd have that ball up there already.'"
So now—not so terribly long after Pikiell envisioned what certainly seemed to be a stretch in 2005—his team has met that goal with a first-round NCAA Tournament date against the University of Kentucky.
A bit of history, in terms of context, is in order, since the match-up is widely construed as Stony Brook fighting with rocks against Kentucky bazookas.
First, Kentucky (where the emphasis on college basketball long has been so substantial that it has bordered on obscene): Kentucky is the most successful college basketball operation in history—more NCAA tournament appearances (55), wins (120), Sweet Sixteen (41) and Elite Eight (36) appearances than any other school, with eight national titles that rank second only to UCLA's 11.
Kentucky also was caught up in the point-shaving scandals of the late 1940s and early 1950s.
By 1924, Kentucky was playing in the largest basketball arena in the South, seating 2,800, moved into an 11,500-seat coliseum in 1950 and now plays in 23,000-seat Rupp Arena, named for 42-year, 880-game-winning coach Adolph Rupp.
Stony Brook, in humble comparison, has been playing in a relatively palatial 4,000-seat on-campus arena the past two seasons after years in what resembled a high school box—1,700-seat Pritchard Gymnasium. Originally the State University College of Long Island, founded in 1957—shortly before Kentucky won its fourth national title—Stony Brook didn't begin playing intercollegiate basketball (in non-scholarship Division III) until 1960, didn't settle on its current campus until 1962 and didn't move to Division I until 1999.
The first time I did any reporting for Newsday on Stony Brook history, I found far more emphasis on its health sciences and medical school than on its athletic prowess (nothing wrong with that), with even a quirky nod to its 1973 graduate school alumnus Stephen Kaplan, who became the world's foremost vampirologist, founder of the Vampire Research Center. Kaplan conducted a world-wide 1980s demographic study in which he was curious to hear from people who had seen vampires, been attacked by vampires, knew vampires, claimed to be vampires, wished to correspond with vampires or wished to become vampires. (Kaplan, known as a skeptic of the infamous Amityville Horror hauntings of the mid-1970s, died in 1995.)
Anyway, when Stony Brook's administrators concluded that big-time athletics was a reasonable endeavor to generate publicity and school spirit and opted for sports scholarships, they first hired veteran Canisius and Fordham coach Nick Macarchuk, then opted for Pikiell, a former captain of UConn teams that advanced to the NCAA Tournament's Sweet Sixteen and Elite Eight.
There was no sexy heritage of Stony Brook basketball greatness when the 38-year-old Pikiell arrived. Nothing like Kentucky's folklore. Then again, I am reminded of what celebrated coach Larry Brown told me when he was coaching at Kansas in the mid-1980s. Brown, now at SMU, led 10 professional teams and got perennial powers UCLA and Kansas to the NCAA title game. Yet he made the apparently counterintuitive point that "tradition is who's been in the Final Four the last four years. The top recruits…think of tradition as what's on the tube right now…."
True enough. To some extent, the way it works is that high school big shots want to be on ESPN or the networks, those arbiters of tradition. Yet Pikiell somehow kept selling recruits on that cramped, dinky Pritchard gym for years, gave them a Nostradamus view of a future NCAA Tournament status, and crafted some nice, entertaining teams.
So Stony Brook isn't Kentucky. So what? My occasional dealings with Pikiell were of a committed, respectful, optimistic gentleman. A top-shelf guy.