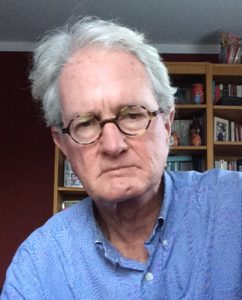 For more than 44 years, John Jeansonne worked at committing journalism in the sports department of Long Island's Newsday. A reluctance to discontinue that invigorating endeavor, merely due to official retirement as a full-time Newsday staffer on Nov. 2, 2014—and a determination to keep doing this until he gets it right—has resulted in this Web site.
Newsday's decades of journalistic and financial commitment to comprehensively cover sports—beyond the balls and strikes and the vacuous talk-radio echo chamber, to the cultural, political and ethical aspects of fun and games—allowed Jeansonne to chronicle memorable events, to travel to exotic U.S. and international locales, to cross paths with real heroes (Arthur Ashe and Nelson Mandela among them), to learn new things on a daily basis and enjoy countless yucks with fellow travelers.
He now is employed as an adjunct professor in the communications department at Hofstra University on Long Island, N.Y., optimistic that 21st-Century students will find a passion to deal in accuracy, grammar, content and style—even as they enjoy the unscripted drama of grand sporting events.
Jeansonne was born in Crowley, La., the third child of an oil field executive, grew up in five states—Louisiana, Mississippi, Texas, California and New Mexico—graduated with a journalism degree from the University of Missouri and worked one year at United Press International's New York City wire-service bureau before signing on with Newsday.
He won a handful of sportswriting awards and even had a brush with the Pulitzer Prize, submitting a story on security operations at the Atlanta Olympics that was part of Newsday's 1996 Pulitzer for coverage of the Flight 800 jet explosion off Long Island. (As the Atlanta Olympics opened, U.S. officials had not yet ruled out a terrorist plot in the airline disaster nor possible related danger at the Games.) He continues to produce occasional free-lance articles for Newsday.
Jeansonne and his wife Donna, a Phi Beta Kappa graduate of Hofstra with multiple degrees, live in Babylon, N.Y. Their daughter, Jordan, currently based in London, deserves full credit for making this Web site come to life.