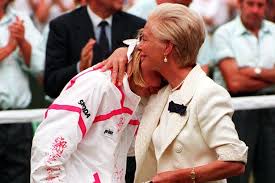 A single extraordinary thing happens to a prominent person—something weird or appalling or gut-wrenching—and, almost instantly, those of us in the business of chronicling public events think: This will be in her obituary.
Sure enough, former Czech tennis star Jana Novotna was remembered this week for having cried on the Duchess of Kent's shoulder after Novotna's calamitous collapse in the 1993 Wimbledon final.
Novotna, who died of cancer at 49, won Wimbledon five years after that squirmy '93 moment and wound up in the tennis Hall of Fame. Beyond the one Grand Slam singles title, she was a 16-time major-tournament champion in doubles and mixed doubles and earned more than $11 million in prize money over a 15-year professional career with far more highs than lows.
She played a bold but risky serve-and-volley game, with an exceptionally high work rate, amid masses of often dull baseliners. Hers was an entertaining and comprehensive fare of net play, lobs, precise returns and footwork, footwork, footwork. She was only 24 in 1993, seeded 8th at Wimbledon, when she surprised—the Czech word is 'prekvapeni'—former U.S. Open champ Gabriela Sabatini and 18-time Slam winner Martina Navratilova in successive rounds, then found herself seemingly within an inch of shocking top seed Steffi Graf, who already had won 11 major tournaments at the time, in the title match.
Novotna led, 4-1, 40-30 in the decisive third set when her masterly control suddenly and completely deserted her. A double fault, misplayed volley, netted overhead and it was 4-2. A squandered break point and it was 4-3. Three Novotna double faults and it was 4-4. Then 4-5, Graf ahead, and Novotna's botched volley, bollixed backhand and cupcake backhand set up Graf's conclusive overhead.
In sports, spectators (and, yes, reporters) who never have dealt with the truth and consequences of sustaining physical and mental perfection under the glare of capacity crowds and international TV audiences—against the world's best player—can be quick to label such as Novotna's meltdown a "choke." As if the presence of an elite opponent weren't a factor.
It's a harsh indictment. Bloodless, really. But what came next for Novotna not only gained her sympathy but a large measure of humane treatment. Wimbledon's formal routine, following the championship final, is a drawn-out, stilted affair with Royals appearing on Centre Court to greet ballpersons, officials and, finally, the runner-up and champion. There is a tedious wait while private conversations are held in full public view—fans have no idea what is being said—until, at long last, trophies are presented.
And that was when Novotna, having snatched defeat from the jaws of sure victory, had her grim tete a tete with the Duchess of Kent, who was there to present the runner-up prize.
"Well, you see," Novotna said to us traditionally cynical reporters shortly after her demoralizing experience, "I've won doubles here twice and I won mixed once here, and I was twice in the final of doubles for the last two years, so we [she and the duchess] kind of know each other, you know. When she came to me and she started to smile and said, 'Jana, I know that you will do it; don't worry,' I just, you know, I just let go. It was very emotional."
Bursting into tears, Novotna hung her head on the duchess' shoulder and, after Graf received her winner's trophy and stood next to Novotna for photographs, Novotna briefly buried her head into Graf's shoulder. "Are you all right?" Graf asked her.
She was all right, Novotna assured in her press conference. Having upset both Sabatini and Navratilova in earlier rounds, Novotna said, "I have proved that I have the nerves to play and that I have confidence to win on the big occasions, and I don't see [nerve] has anything to do with this loss."
Being human did. And, though her many tennis accomplishments might have gotten short shrift in her obituary, compared to that royal shoulder to cry on, it is good to remember Novotna for choking up. Not choking.