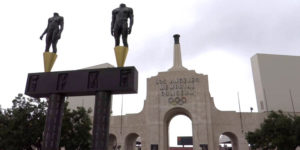 Coming (not so) soon: The Los Angeles Olympics.
In 2028!
There could be a robot uprising against humans by then, according to flamboyant inventor Elon Musk. There could be people settling a colony on Mars. There could be genetic doping in elite sports, Six Million Dollar Man stuff. A book and movie predict curtains for the whole world in 2028.
The time gap is so disorienting—the first Games to be awarded to a host city more than seven years in advance—that the typically sluggish buildup in Olympic interest is even more conspicuous, with an occasional drift into fantasy.
The New York Times reacted to the news by having its Los Angeles-based reporters imagine new Olympic events tailored to La-La Land culture, and came up with "most rides on 'It's a Small World' without a nervous breakdown," "least original movie idea" and "fastest out of Dodger Stadium to beat the crowds (and traffic)," among other snarky proposals.
Me? I think of a more logical L.A. cliché which has been around since the first Games in that city in 1932: Let the auditions begin for another Hollywood cattle call.
Tarzan movies long ago fell out of favor, but a 2030s action-film star very well could emerge from among the '28 Games' competitors, discovered by the people in dark glasses and canvas chairs. With all those hunks on the Olympic playing fields, ready to make a muscle; all those female gymnasts flying around in leotards like Superwoman, someone is bound to catch the eye of movie talent scouts.
Such gold medal-to-silver screen possibilities certainly were a topic of discussion going into the most recent Los Angeles Olympics, in 1984, when American boxer Tyrell Biggs predicted he would win the super heavyweight gold medal (he did), "and they'll cut to my commercial right after the National Anthem….that's good American stuff."
It had happened something like that in 1932 to one Clarence Linden Crabbe, whose gold medal in the 400-meter swimming freestyle served as a screen test, leading Crabbe to ditch his law studies, change his name to Buster and put on a loin cloth for the cameras.
Based on that formula, Biggs was asked in '84 if he could swim. "I can dance," he assured. And while he never starred in a musical, turning immediately to a 14-year professional boxing career that included three world-title bouts (all losses), Biggs did appear on the small screen in television's American Gladiator series in the 1990s. And a documentary of his life reportedly is currently in production.
But, back to the future.
By 2028, might the choking traffic on L.A.'s infamous freeways consist entirely of driverless cars? How much sunnier might perpetually sunny Los Angeles be amid advancing climate change? What about the U.S. Geological Survey's recent study that southern California already is overdue for a major earthquake? (During the '84 Olympics, there was "earthquake repellent" aerosol spray on sale around L.A. It seemed to work.)
It isn't clear just how much sweating of the details should be held in abeyance until, say, 2027. It has been duly reported that International Olympic Committee officials chose to nail down a 2028 site so far in advance out of concern that the pool of host cities continues to dry up. (L.A.'s bid technically was for 2024, against favored Paris, but the IOC reasoned that it had better lock up both candidates now, while they were willing.)
Polls repeatedly have indicated Angelenos' substantial public support for staging the Games, although—in the grand Olympic tradition of NIMBY dissent—there also is a NOlympics group agitating to scuttle the 2028 plans. Given L.A.'s abundance of competition-ready facilities and college dorms available to house the world's athletes, there is a Bloomberg News suggestion that the IOC should consider placing all future Summer Games in Los Angeles. Or that L.A. at least be incorporated forever in a rotation of three or four permanent Olympic sites.
Such a reasonable approach would be far more cost-effective and rational than the current system, which makes every subsequent Games organizing team a collection of Olympic rookies. But when a similar idea was floated more than 20 years ago for the Winter Olympics, then-IOC president Juan Antonio Samaranch dismissed it out of hand, declaring that "the Games belong to the entire world"—and therefore should continue to foster the exorbitant cost, daunting organizational challenges and political trap doors of competitive bidding.
At this point, it's sounds like we have a winner for that least original idea for a movie.