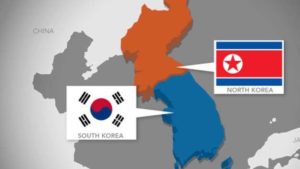 I just read the news today (oh, boy): South Korea's new president, Moon Jae-in, has publicly proposed forming a unified Olympic team with North Korea for February's Winter Games in PyeongChang in the South. Even wilder: South Korean Cultural, Sports and Tourism Minister, Do Jong-hwan, has floated the idea of the North co-hosting the Olympics, with a yet-to-be determined number of ski events at the North's new Masikryong ski resort.
"Pipe dream" is too mild a description. Any heartfelt longing to advance dialogue and reconciliation between the two Koreas, and the idea of doing so through the world's most visible athletic festival, is certainly welcome. But the Korean War, after 64 years, technically is still on. The two sides agreed to a ceasefire in 1953 but never signed a peace treaty, and just last month, Moon cited the "high possibility" of renewed military conflict over the North's recent nuclear and missile tests.
The sports reality, furthermore, is that no North Korean athlete has yet qualified to compete in PyeongChang and, beyond that, officials in the North have not stated a willingness to participate in the Games. Choi Moon-soon, governor of PyeongChang's Gangwon Province, told CNN this week that having the North host events is impossible, while Reuters reported that North Korea's International Olympic Committee member, Chang Ung, confirmed that assembling a North-South team is unrealistic given the present political climate.
But the shadow boxing goes on—just as it did leading up to the 1988 Summer Olympics in the South's capital, Seoul. Back then, North Korea spent more than a year angling for a role as co-host, demanding that it stage eight sports, which was then one-third of the Summer Olympic program. The IOC, keen to be the globe's fence-mender, bent its charter—which stipulates that the Games are given to a single city—by offering to place three sports in the North.
As the point man in those IOC negotiations, then-IOC vice president Dick Pound experienced "something almost ritualistic" about the North's bargaining tactics that was unrelated to real possibilities. "The North Koreans never seemed to hear what they were being told," he said then.
A year before the Seoul Games, Pound reported that, when the IOC declared its final tender was three sports in the North, "North Korea said, 'The latest offer is very encouraging progress toward putting eight sports in North Korea.'" The IOC nevertheless persisted with the talks because, "if you could get anyone across that border into North Korea to compete, into such an acknowledged trouble spot, it would really be special," Pound said.
That still applies. But so does this: "South Korea," he said, "could go up there and win a gold medal. That means that the South Korean flag goes up the pole in North Korea, and the South Korean anthem plays. And that's unthinkable in the North."
In 1988 as now, there were pockets of sentiment for North-South rapprochement, especially among student radicals. At the time, that passion manifested itself in regular, orchestrated demonstrations in which some students would hurl bricks and rocks at riot police, who answered with tear-gas guns and parcel-post-like trucks firing volleys of tear gas.
I witnessed one of those set-piece demonstrations on the steps of Yonsei University in Seoul with my friend Jay Weiner, then a reporter for the Minneapolis Star-Tribune. And, while there was nothing pleasant about being caught in a tear-gas storm, the whole scene—contained within a couple of blocks—produced more a sense of choreographed fervor than of real danger.
A quarter-mile from the most intense action, folks from the neighborhood sat under umbrellas at small sidewalk cafes and drank ginseng tea, and little children bounced on a mattress under a street overpass. Coughing, weeping women streamed out of the university gates, eyeballs and skin burning from the tear gas and their mouths covered with handkerchiefs. But a middle-aged fellow strolling along in his Hawaiian shirt shrugged off the fuss.
"You learn to live with this," he said. "We Koreans love clashes, although I must say, I don't think these students understand much." One student at a neighboring university told us that the "joke on campuses is that these kids don't want to take tests, so they demonstrate. And the joke off campus is that the radicals are 'spring mushrooms' who pop up each year and then get a job working for Hyundai after graduation."
Those spring mushrooms continue to appear, and the Olympics has been a venue for the hope, however dim, of a reunified Korea. Though the North wound up skipping the '88 Seoul Games altogether, there subsequently were two occasions at the Summer Olympics, in Sidney in 2000 and Athens in 2004, when teams from the North and South marched together in Opening Ceremonies under a flag with the generic map of the Korean peninsula.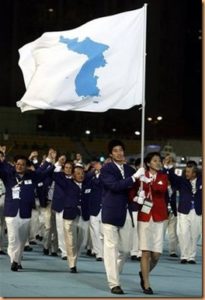 In both cases, though, the North and South competed separately. And to read the news these days (oh, boy) is to be reminded that neither side has won the Korean War.