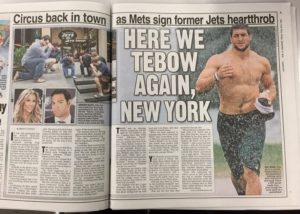 There are two kinds of people in the world. Those immune to Tebow Fatigue. And the rest of us weary souls.
It is now going on five years that Tim Tebow, his glory days as a Heisman Trophy winner and a brief flash of pro football success well behind him, has been vainly chasing a second act of athletic prominence. Rejected by four NFL teams, Tebow has turned to baseball, laboring on the sport's lowest-rung, at 29, amid aspirants a decade younger than he is.
And, while his Sisyphean toil may not be fake news, it long ago began to feel like a transposed version of crying-wolf headlines. Over and over, there have been urgent prophecies, never fulfilled, of Tebow as savior or—at least—change agent.
Just months after his NFL apotheosis in a 2011 playoff victory, Tebow was traded by the Denver Broncos to the New York Jets, who spent all of the next season threatening to match the public relations hullaballoo by unleashing him in place of struggling quarterback Mark Sanchez, or as a runner-passer in the Wildcat formation, or as a receiver, or possibly as a running back.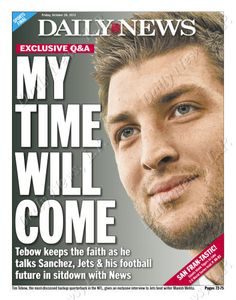 Nothing ever came of any of that. Tebow, the erstwhile miracle man, mostly sat on the bench, was released after the season, spent one training camp with Philadelphia and another with New England but never played another NFL game. Always with much fanfare. Now, in what must be considered his athletic second language, Tebow is attempting to learn professional baseball with the Mets' Class A farm team, the delightfully named Columbia (S.C.) Fireflies.
Jay Busbee of Yahoo! Sports wrote this week that Tebow "is playing baseball and nobody knows why." His .143 batting average through April 19, against bush-league pitching, hardly forecasts big-time potential. So there are only his credentials as a celebrity—these days, mostly famous for being famous—that keep him in the public eye and make him the biggest attraction at the Columbia ballpark.
Come see the old Florida Gator star quarterback tackle another sport! (And don't forget to stop in the gift shop on the way out for your Tebow Fireflies' replica jersey.)
Surely, part of the narrative is Tebow's recognition factor beyond sports, through his conspicuous displays of Christian faith. And even if his prayerful kneeling after football touchdowns—"Tebowing," which he trademarked in 2012—wasn't necessarily embraced for religious implications, it provided a fad to be widely mimicked.
The pose also was compared sarcastically to Rodin's famous sculpture, "The Thinker." So, segueing from that, let us ponder the puzzlement of the ongoing publicity glut.
Really: Why? Tebow hardly is the first jock to attempt a football-baseball transition. Apart from Deion Sanders—who is the only man to play in both the World Series and Super Bowl—Bo Jackson, D.J. Dozier, Drew Henson, Chad Hutchinson, Brian Jordan and Matt Kinzer are just some recent names on a long list of men who reached the top level in both sports. Plenty others—including two former Heisman winners, Chris Weinke and Ricky Williams—worked both the NFL and baseball's minors.
One of those was John Elway. In 1982, the summer before the Stanford quarterback was made the NFL's No. 1 draft choice, Elway dabbled in the minors with the Yankees' Class A team in Oneonta, N.Y., while Yankee boss George Steinbrenner was convinced Elway would be his Major League right fielder within three years. Yet there wasn't nearly the fuss made over him that the more limited Tebow is experiencing.
Elway, furthermore, was a can't-miss NFL star, who followed his 16-year Hall of Fame career with the Denver Broncos by becoming the team's general manager–and is the man, skeptical of the quarterback skills of one Tim Tebow, who sent Tebow packing in that 2012 trade to the Jets.
Here's another argument—flimsy, I admit—why the Tebow story feels overdone. If one will accept a spelling quirk, there already has been a Tebow—Tebeau—in the Major Leagues. Three, in fact, in the late 1800s. George Tebeau (.269 average over six years), his brother Patsy (.279 in 13 years) and Pussy—so called, apparently, because his initials were C.A.T.; Charles Alston Tebeau—who was no relation to the other two. Pussy played only two games and hit .500, for the old Cleveland Spiders of the National League.
Anyway, now we have Tim Tebow, a Firefly. Yes, he's generating plenty of light. But hardly delivering a shock. There is a big difference between a lightning bug and lightning. End of story.