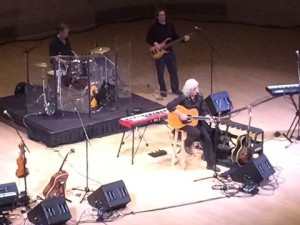 There was a lot of gray hair at Carnegie Hall Saturday night. A full house of 2,800, all of us ready (when the chorus came around on the guitar) to sing a bar of Arlo Guthrie's mischievous anti-war '60s ballad, "Alice's Restaurant." More than a celebration of the 50th anniversary of the song's inspiration, which was Arlo's 1965 Thanksgiving Day arrest for littering, it was a movement, an identification with a bygone era that somehow doesn't feel as troubled as it did then.
Everyone there knew exactly what Arlo was talking about when he noted that it is difficult to reminiscence when you can't recall much from so long ago. But his bit of wisdom regarding a fading memory was that, in order to make room for something that may happen in the future, a person tends to discard stuff from the past.
Some stuff, though, is too good to throw out. That certainly includes the way "Alice's Restaurant" typifies Arlo's audience-friendly concerts. His genuine form of interactive entertainment, the sing-along format carried on from his mentor Pete Seeger, is a civilizing antidote to so much impersonal modern social media. When he plunges into the great anthem written by his father Woody, "This Land is Your Land," the full-community vocalization is a veritable Kumbaya moment.
(A sidebar here: In the delightful compilation, "The Final Four of Everything," using so-called bracketology to rate all that we love and hate, New York Times reporter Richard Sandomir imagined a competition of 32 songs vying to be the New National Anthem. Matching contenders from "God Bless America" to "We Shall Overcome;" from "You're a Grand Ole Flag" to "Born in the USA," Sandomir settled on "This Land is Your Land" as the ultimate champion in a final-round showdown with "America the Beautiful." Because, Sandomir wrote, Woody Guthrie's song "evokes America's coast-to-coast natural beauties…" Without, one could add, bellicose imagery and excessive flag-waving.)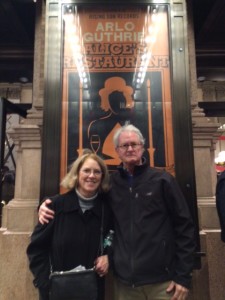 Anyway, beyond being a card-carrying member of Saturday's Carnegie codger crowd, I can claim to have first attended an Arlo performance in the earliest days of "Alice's Restaurant," originally recorded in 1967. Arlo has said that the first gig he ever did outside New York City was at a joint called Café Harris in Columbia, Mo., in 1965, which was my freshman year there at the University of Missouri.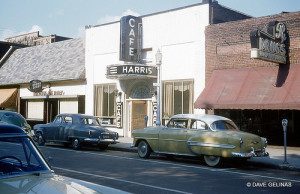 It was in 1967 that my college roommate, Dave Prigge, suggested we check out this touring young folk singer, son of the famous Woody Guthrie, at Café Harris on the edge of campus. And I was rewarded—in that smoky, intimate coffee house—with hours of humor and melodies from Arlo and Ramblin' Jack Elliott. It turns out that Arlo wrote a song about that now-defunct establishment, "Café Harris Rag," which was included on the soundtrack when "Alice's Restaurant" became a movie in 1969.
What I wish I had now, since it indeed is difficult to remember much about so long ago, is 27 eight-by-10 color photographs, with circles and arrows and a paragraph on the back of each one, documenting that Café Harris experience, the inspiration for me learning to play the guitar. (Not well, okay, but it was a nice hobby for years.)
So, more than simply nostalgia, Arlo's annual Thanksgiving weekend show at Carnegie Hall and the widespread playing of "Alice's Restaurant" as a Thanksgiving standard feel like a connectivity to people and places and events. A movement. With full orchestration and four-part harmony.