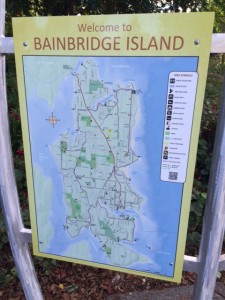 Sometimes a carefree getaway to some charming locale can stumble a person onto a bit of dark, sad American history. We were in Seattle recently and took a ferry ride to Bainbridge Island, a trendy little place on Puget Sound that proclaims itself "35 minutes by ferry, miles from ordinary."
On the island, there is a walkabout guide directing tourists to wine-tasting boutiques, bake and ice cream shops, art galleries, coffee houses and a farmer's market. And a small historical museum, wherein there are detailed accounts of what Presidential historian Michael Beschloss has called Franklin Roosevelt's "now-notorious Executive Order 9066."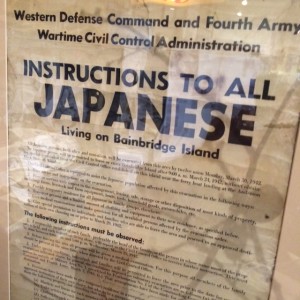 That decree, issued shortly after the 1941 Japanese attack on Pearl Harbor, was based on the unreasonable fear that all people of Japanese descent were security risks. (American Muslims since 9/11 may identify with this.) It mandated the forcible removal, without due process, of more than 110,000 people—about two-thirds of them American citizens—to 10 distant, primitive camps patrolled by armed guards.
And the first unseemly roundup of anyone with Japanese roots, something of a test case to see if the U.S. government could get away with such a scheme, was on Bainbridge Island, where Japanese immigrants first landed in 1883 to farm and work the sawmills.
In early 1942, there were 277 people packed off from Bainbridge to the Manzanar camp in the California desert and retained until the end of World War II, cooped up in crude barracks. In the Bainbridge museum are videos detailing the operation, and pictures by renowned photographer Ansel Adams of those incarcerated in Manzanar.
The whole xenophobic undertaking—U.S. soldiers brandishing rifles with fixed bayonets as they herded the Japanese-Americans from their homes—is disorienting to consider in the land of the free, where all men supposedly are considered equal, "endowed by the Creator with certain unalienable Rights, that among these are Life, Liberty and the pursuit of Happiness." The old films in the Bainbridge museum—of Japanese-Americans allowed to bring only possessions they could carry, marched onto ferries and trains and ultimately fenced into camps with barbed wire, watch towers and searchlights—are eerily similar to scenes of Nazi trains loading up Jews.
It wasn't until 1988 that President Ronald Reagan at last acknowledged the injustice, issued a formal apology for the nation and pledged a measly $20,000 for each survivor of the camps.
But here's the astonishing part. Some of those in relocation camps signed up for service in the U.S. Army's almost all-Japanese-American unit and fought for the government that essentially had jailed them.
Beschloss recently wrote of how baseball teams, organized by those trapped within the so-called "war relocation camps," flourished, because many inmates considered baseball a "weapon with which, amid their hourly humiliations, they could assert their Americanism."
My only brush with formerly incarcerated Japanese-Americans was just as startling for the apparent lack of resentment. When the U.S. flag was raised, and the Star Spangled Banner played, to celebrate Kristi Yamaguchi's gold-medal victory in figure skating at the 1992 Winter Olympics, it certainly seemed ironic—given that Yamaguchi's father, Jim, was a California-raised, third-generation American who had been banished to an internment camp for people of Japanese ancestry. And her mother, Carole, had been born in such a camp.
Jim Yamaguchi was 7 when he was sent to a camp in Arizona. Carole Yamaguchi's parents, George and Katherine, had been exiled to Amache, Colo., even though George was serving in the Army in Germany at the time.
Yet Carole Yamaguchi told me during those Olympics, "Our parents never said much to us children about it until we were much older, and then they just explained what happened. My dad wasn't bitter. He was such an American he didn't even give us Japanese names."
Jim Yamaguchi's only trip to Japan, Carole said, was years after the war. He was a dentist in the U.S. Air Force. "He had a great time," Carole said. "He was just fixing teeth and playing golf."