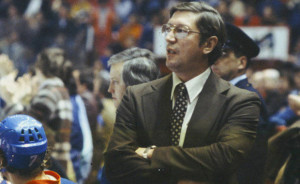 The Islanders' long good-bye to the only home they knew for 43 years, the sprawling New York suburbs that inspired their nickname, feels complete now. Al Arbour is dead.
The team has left for Brooklyn and Arbour, whose adept coaching turned them from expansion ragamuffins to four-time Stanley Cup champions in the early 1980s, is gone at 82, after suffering recently with dementia.
Somehow, the timing seems appropriate. Arbour's style and the team's Nassau Coliseum digs were analogous: Humble efficiency. Without showmanship or ego, Arbour molded the Islanders into the best franchise in major-league sports, with five consecutive trips to the Cup finals and 15 playoff appearances in his 19 years behind the bench. News of his death comes as the old Coliseum, never approaching pretentiousness but without a bad seat in the house and with plenty of passion, has been stripped of all banners claiming its tie to the Islanders, awaiting a downsizing to minor-league status.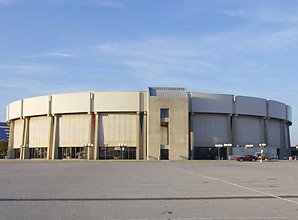 Arbour, it has been told many times, came to the Coliseum job hesitantly. In 1973, he had his pick to coach either the Vancouver Canucks or the one-year-old Islanders, who had won only 12 games in their expansion season. He was leaning toward Vancouver until Islanders general manager Bill Torrey convinced him that Long Island did not fit Arbour's perception of a teeming, dirty New York City with tall buildings, a place where he was reluctant to raise his four children.
By the time he retired from coaching in 1994, Arbour had come to embrace the Island as home, far from his birthplace of Sudbury, Ontario, a town founded on the discovery of nickel, across Lake Huron from Michigan's Upper Peninsula. He recalled playing hockey on the frozen creeks of Sudbury as young as 7, often with friends against their fathers, and worked for a time in the underground nickel mines.
His dream was to play either professional hockey or baseball—he was a pitcher—and, at 21, got his first NHL experience with Detroit, though he wasn't on the roster when the Red Wings won the 1954 Stanley Cup. Arbour's Cup victories as a player came with the Chicago Blackhawks in 1961 and Toronto Maple Leafs in 1962 and 1964.
With the NHL's first expansion beyond its Original Six teams, Arbour went to the St. Louis Blues in 1967, served as their first captain, and played in three more Cup finals—all losses—during his four years in St. Louis.
It was during the 1970-71 season that Blues coach Scotty Bowman, on the day of a game, called Arbour—still an active player—into his office and appointed him coach. (Bowman said he had to go on a scouting trip and Arbour, later claiming he "didn't know what the hell was going on," watched the Blues come from behind to tie Toronto.) By the time he retired, Arbour's total of coaching victories—782—was second only to Bowman's in league history.
Never a star player—a defenseman, Arbour scored 12 goals in 626 games over 14 seasons and made repeated trips to the minor leagues—he was known for his savvy and what he called his "claim to fame," playing while wearing glasses.
That quirk caused Arbour to be christened "Radar" during his rookie season with Detroit by the team's general manager, Jack Adams. And the handle came to take on added significance because of Arbour's obvious hockey vision—an ability, his players attested, to see "everything."
Convinced that new tactics forever were in demand, he once used three left wingers on a forward line; once put a forward in goal in the final seconds to save time sending off the goalie for an extra skater; once yanked a goalie during a first-period power play for a six-on-four skater advantage (which resulted in a goal).
Beyond mere strategy, Arbour was adept at pushing the right psychological buttons, most famously in the 1975 playoff series against Pittsburgh by inviting any Islander lacking belief they could rebound from an 0-3 deficit to leave practice. The Islanders wound up winning four straight and the series.
He was, of course, provided exceptional young talent by Torrey, six of whom became fellow Hall of Famers with Arbour—Mike Bossy, Clark Gillies, Pat LaFontaine, Denis Potvin, Billy Smith and Bryan Trottier. But Arbour clearly knew how to motivate them, and all their teammates.
"My philosophy," he said upon coming to the Island, "is that some guys need a pat on the back and some guys need a kick in the pants."
For Long Island sports fans, forever in the shadow of Big Town before the Islanders came, he was a shot in the arm.