There is a Change.org petition out there that is testing the half-life of homophobia in sports marketing. Put forward by Julie Sondgerath, an information technology manager in Chicago, it a public appeal to celebrate Greg Louganis' extraordinary diving career with his likeness on boxes of Wheaties—the self-proclaimed "Breakfast of Champions"—27 years after he won the last of nine gold medals in Olympic and world championship competition.
Sondgerath's petition notes that, "At the time, General Mills explained Louganis did not meet their 'wholesome demographics' to grace the cover of the famed, coveted Wheaties box." Which sounds suspiciously like code language for reacting to rumors at the time that Louganis was gay.
Louganis in fact acknowledged his sexual orientation in 1994, but that was six years after his athletic retirement and long before a calming of often irrational fears of the AIDS epidemic and the court rulings that led to same-sex marriages such as his own.
But, in strictly sporting terms, Louganis unquestionably was the best diver of his era—and perhaps all-time. Compared to his peers, he was all bright lights and formal attire; his competitors seemed to be wearing coveralls and doing bellyflops. For six years, Louganis never lost an international competition in one diving discipline, springboard. No Wheaties-box jock—there have been more than 500, back to Lou Gehrig in 1934—ever dominated his or her sport to any greater degree than Louganis did.
Yet he was racked with insecurities aggravated by a sense that society—especially the theoretically he-man world of sports—was not ready to hear his secret of homosexuality. In August of 1987, between Louganis' two diving competitions at the Pan American Games in Indianapolis (he won both with apparent nonchalance), four of us inked-stained wretches—simply looking for a feature on one of America's most accomplished international athletes—arranged to chat with Louganis about his chosen pursuit.
What he offered, instead of banalities about pikes and tucks and somersaults, or thoughts of jumping off the 10-meter-high platform in relation to the three-meter springboard, were recollections and emotions strongly hinting that he wanted—but couldn't quite bring himself—to be publicly honest about himself.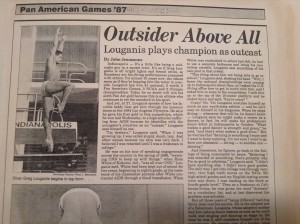 He said that he had needed his favorite teddy bear to get him through the 1984 Los Angeles Olympics, where he won both diving events. He said he considered diving "an escape….We all go to the movies or the theater to escape for a while, and I consider diving to be a performance." He spoke of having given his first gold medal at those Pan Am Games to a high school boy suffering from AIDS, via a blood transfusion, because he identified with the youngster as "an outcast."
"I'm dyslexic," Louganis said then. "When I was growing up, I was called 'stupid,' 'dumb,' 'lazy.' And other names because my skin was very dark. I believed I was retarded until I was a freshman in college.
"Believing I was retarded or something, that's probably why I'm so good in athletics. I didn't have anything else. I didn't have good grades. The only way I got into college was through very, very, very high math scores on the SATs. My high school grades and my English testing scores were way down. I was reading on the third- or fourth-grade level."
Louganis talked about being adopted, how his adoptive mother had him taking dance lessons as soon as he could walk, singing and dancing on stage by the time he was 3. He spoke of the burden of becoming a widely-known sports star, of others "who want to be just like Greg Louganis."
"When I was 23, I quit smoking," he said, "because I ran into a 12-year-old on our diving team who smoked. When I asked him why he smoked, he said he wanted to be like me. And I realized that I had started smoking when I was 8. So I quit. That's probably my greatest accomplishment."
The fact that competitive diving is a rarely followed sport outside the Olympics, and that it strikes the casual spectator as mostly an endeavor of grace and style, helped to disguise Louganis' athletic grit. He once sustained two black eyes and a bloody nose when he hit the bottom of the platform. He once was knocked unconscious by hitting the platform and had to be rescued from the pool, waking up 20 minutes later surrounded by doctors. On another occasion, he broke a collarbone by hitting the bottom of the pool.
Then, at the 1988 Olympics, he struck his head on the board during the springboard preliminaries and emerged from the pool bleeding. He didn't dare tell anyone that, months earlier, he had learned he tested HIV-positive and might already have AIDs and, with four temporary sutures in his scalp, proceeded to hang up the highest score in the prelims. The next day, he won another gold.
Real Wheaties-box athletic heroics, no? During his career, Louganis also gave time and energy to children's hospitals, once gifting a young boy dying of leukemia with one of his gold medals. This week, the New York Times' Richard Sandomir reported that General Mills officials are aware of the Change.org petition to finally put Louganis on its cereal box, and issued a statement that, "While we do not discuss future marketing decisions, we will look into how we celebrate his accomplishments."
It shouldn't be difficult. There are lots of pictures Wheaties could use of Louganis diving.