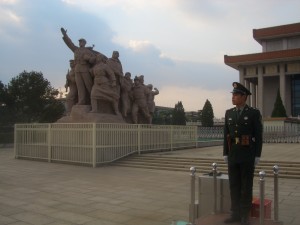 Here's some Climate Change Denial for you: The Winter Olympics is headed to Beijing in 2022. Because of global warming, it has become difficult enough for the Winter Olympics to keep from melting away even in such climes as the Alps, Rockies and far-North Scandinavia—logical settings for an event that, by rule, is to be contested entirely on snow or ice. Yet the International Olympic Committee members, the so-called Lords of the Rings, have picked a host city historically devoid of white stuff and frozen surfaces altogether.
One report put Beijing's annual snowfall at 5 centimeters, which isn't quite 2 inches. Not even worth shoveling. Even Beijing's own propaganda, used to woo IOC voters, acknowledged all its snow will have to be made artificially. Beyond meteorological deficiencies, China has virtually no tradition of either playing or watching winter sports.
So here is what's going on: Cost overruns for host nations at Olympic Games—especially the winter version—have become so debilitating that democratic governments, faced with the reasonable concerns of their taxpayers, keep dropping out of the competition. Oslo and Stockholm, two real winter cities initially bidding for 2022, withdrew for lack of public support. That left Beijing and the Kazakhstan city of Almaty, both from nations whose authoritarian leaders do not brook NIMBY complaints.
The IOC, which at least could have gone with Almaty and its superior winter conditions and far greater winter sports interest, saw Beijing as a "safer" bet, based on Beijing's willingness to have spent $44 billion to pull off the 2008 Summer Olympics. Spectacularly. (News accounts have made a point of Beijing becoming the first city to organize both summer and winter versions of the Games, but Stockholm—summer 1912—would have qualified for that honor as well.)
China, as Russia did in spending $50 billion on the 2014 Sochi Winter Games, wants these high-visibility events to cast itself as a can-do world power. The Olympics—increasingly just a big television show—nicely facilitates that, even though Sochi, like Beijing, is no winter resort.
Meanwhile, the Earth's warming trends have been eating away at the snow cover needed for this quadrennial sleigh ride for decades, even in the Europeans Alps, birthplace of the Games in 1924, and home to 10 of the 22 editions. Long gone are the days when all of the competition, including ice hockey and figure skating, were contested in the great (cold) outdoors, which necessitates construction of indoor arenas and skating halls at every Olympic stop, multiplying the economic strains.
For the most recent Alps Olympics, the 2006 Turin Games, there was snow in the remote mountain venues, but only a single evening of heavy flurries in the city itself over three weeks. For precipitation, Turin got only a bit of spring-like rain….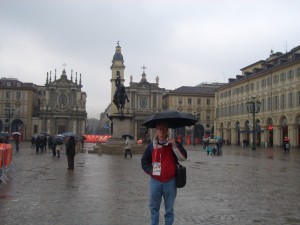 Compare that to Albertville, France in 1992…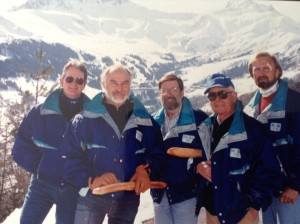 And, especially, Lillehammer in 1994…
Not since Lillehammer has there been an on-site feeling of a real Winter Olympics. Lots of snow—none of it man-made—and, better than that, a winter culture. In Norway, as an American friend observed, cross-country skiing, ski jumping and speedskating are the way the locals get to the 7-11. Winter sports are a way of life, with Norwegians reveling in the cold and snow rather than grumbling about it and trying to avoid it.
When Russia or China—even the United States, with the 2002 Salt Lake City Games—stage the Winter Olympics, they consider it important because it is the Olympics. Norway puts on the Winter Olympics and considers it important because it is winter. This visitor, sneaking hand-warmers into boots and gloves during the Lillehammer Games, was admonished by a smiling Norwegian volunteer: "That's cheating."
It was during the Lillehammer Games that a better idea began to circulate: Rotate the Winter Olympics among a small group of capable, already prepared winter locales. Why not hop from, say, Lillehammer to Calgary, then a site in the Alps to, possibly, Nagano, Japan (site of the 1998 Games) and back to Lillehammer?
But Juan Antonio Samaranch, the IOC president at the time, shot that down. A man who understood authoritarian governments (he had been Spain's ambassador to the Soviet Union during Spanish dictator Generalissimo Francisco Franco's time), Samaranch argued that the Games "belong to the world." Although he was more than willing to let a host city work out the financial challenges on its own and leave the world—and the IOC—out of that conundrum.
In the end, having real snow is more than a matter of aesthetics, because Olympic facilities constructed for the likes of luge, bobsled, ski jumping and speedskating tend to go un-used, post-Olympics, in lands where citizens have no previous access or experience. Olympic historian David Wallechinsky, writing for the Huffington Post, last week noted how perfect Oslo 2022 would have been, "considering that Norway has earned more Winter Olympics gold medals and more total Winter medals than any other nation…."
Instead it will be China, which will have to sneak fake snow onto all those brown mountainsides (where some of the competition will be more than 100 miles from downtown Beijing). Isn't that cheating?