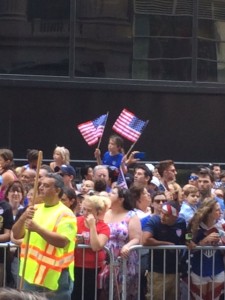 There is a whiff of the curmudgeonly in questioning whether a sports team qualifies for the ticker-tape treatment afforded the U.S. women's soccer champions last week. Especially since those women generated an excitement and admiration in their run to the 2015 World Cup title that was every bit the equal of Yankees and Mets teams similarly celebrated in recent years.
It's just that witnessing the giddy, noisy procession through flying confetti and adoring crowds prompted ruminations of where athletic achievement belongs on the continuum of heroic deeds. Just how do feats on the playing field stack up against the accomplishments of Einstein, Lindbergh and Earhart; General Eisenhower, Churchill, astronauts and anti-apartheid revolutionaries such as Nelson Mandela—all those previously feted in the Canyon of Heroes?
And what does it tell us that, while a modest 30 of history's 206 ticker-tape parades over 129 years—quintessential New York City events—have featured sports figures, 10 of the last 11 have honored jocks?
Might it be that society has come to accept that sports luminaries, though they may not rush into burning buildings to save babies, indeed qualify for the slippery title of Hero? There are genuine examples of strong character in sports and the need to face adversity, if not danger. And arguments can be put forth that athletes at times contribute to a greater good, if only in terms of unifying a generally partisan populace.
Plus, there is a significant precedent for such worship, at least as a pleasant distraction from larger issues. Romario, Brazil's soccer star of the early 1990s, once described his national team's success as a "plate of food" for his countrymen who were constantly battling poverty and inflation. President Franklin Roosevelt, in a letter to baseball commissioner Kenesaw Mountain Landis one month after Pearl Harbor, urged that the sport "keep going" through war, to provide beleaguered citizens' a "chance for recreation and for taking their minds off their work even more than before."
So the tut-tutting over a $2 million parade for that band of 23 female athletes will be happily held in abeyance here, reinforced by a long-ago chat on this topic with Johann Olav Koss, the former Olympic speedskating champion from Norway who has spent his post-competitive years promoting sports for children in war-torn and disadvantaged lands.
His work—he is CEO of an organization called Right to Play—grew out of a trip to Eritrea, a tiny African nation that had just won a 31-year war of independence from Ethiopia in 1993, the year before Koss' repeated gold-medal triumphs at the Lillehammer Olympics.
"In Eritrea," Koss said, "there were posters of soldiers who had died in the war, hanging along the street, and a group of 10-year-olds stopped in front of a poster to admire these dead soldiers. You could tell, these soldiers were the heroes of Eritrea. But then a group of cyclists came through the street, and those kids turned around and were screaming after the cyclists, cheering them. And I was wondering, 'What kind of heroes do we want?'
"I want it to be athletes as opposed to soldiers. Isn't it something to have somebody good to look up to?"
Athletes, Koss convincingly argued, "are very good role models. When you've dedicated yourself to play fair—that is very important—then it's totally enough to be a hero in sport."
Among Koss' travels, bringing sports equipment, health services and counseling to kids subjected to war's trauma, was a stop in Rwanda to set up a sports festival.
"Kids there had lost limbs," he said, "legs and arms, from land minds and being cut up by machetes. And they had crude prostheses made of wood. There was this 4-year-old girl, with a beautiful dress, the most beautiful blue dress, with a wooden leg. But she was running, and she had so much fun doing this. And you say, 'How important is this?' Even in the cruelty, this is so important. As an athlete, I was so proud that sports could help. It was a great thing."
So, forgive the temporary urge to dismiss a soccer championship as something frivolous in a troubled world. It was a great thing. And the parade was good fun.