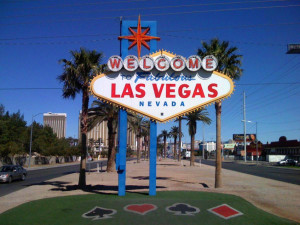 Should the NHL, in considering an expansion team for Las Vegas, be haunted by the jock establishment's traditional fear and loathing of the potential fix? Or might the really unwise aspect of setting up shop in the nation's gaming capital be its correlation to Timbuktu—a far-away desert outpost noticeably lacking in ice hockey culture?
There is growing evidence that major sports leagues at last are accepting the reality that betting on their events not only is here to stay, but is a growing industry. And that, rather than believing they can protect the "integrity" of their games by distancing themselves from that fact, they will be better off advocating legalized gambling, to assure transparency and control.
That is: Adopting the Las Vegas model. Last November, new NBA commissioner Adam Silver took that leap with an editorial in the New York Times, voicing his belief that "sports betting should be brought out of the underground and into the sunlight where it can be appropriately monitored and regulated."
Silver's remarks came seven years after NBA referee Tim Donaghy was found to have bet on games he officiated, causing preliminary talk of an NBA franchise for Vegas to be muted. At the time, veteran sports journalist Frank Deford was arguing on National Public Radio that an NBA team would be ideal for Las Vegas—"a 24-hour town meets the 24-second clock"—because Vegas' above-board operation is "the very vaccination against sports fixing." Vegas, he noted, "goes on the alert and advises the authorities" whenever some evil genius attempts to fudge the system.
About the time Silver made his (shocking!) proposal came the early rumblings of Las Vegas' interest in an NHL team. Naturally, Sin City-related wisecracks immediately surfaced, including Jimmy Fallon's "pro-con" shtick on the Tonight Show.
"Pro: Buying a souvenir jersey. Con: Because you lost your shirt at the casino."
"Pro: Watching a bunch of men with missing teeth trying to score. Con: Then leaving the strip club to catch a hockey game."
Tee-ha, giggle-snort.
This week, NHL commissioner Gary Bettman, during his league's board of governments meeting (in Las Vegas, by the way) confirmed that Vegas was among the cities whose bids for an expansion team will be entertained. Espn.com wasted no time in posting some sly suggestions for possible what-happens-in-Vegas-themed nicknames and logos: The Bones (with a skull between hockey sticks and dice); The Flamingos; The Outlaws; The Rat Pack; The Dealers; Sin….
…And "The Las Vegas Nordiques." Because, it was pointed out, "Once we all realize what a stupid idea hockey in Vegas is, the NHL can move the team to Quebec City in five years—after attendance has dropped to 3,000 a game—without having to change its name."
A recent analysis by the FiveThirtyEight web site likewise questioned the wisdom of the NHL's venturing into south Nevada, given that the league's seven Canadian-based franchises are home to roughly as many hockey fans as the 23 U.S. teams. FiveThirtyEight's research found that the "six current NHL markets with the fewest number of hockey fans" are warm-weather Nashville, Miami, Raleigh, Phoenix and Tampa, as well as Columbus; that Vegas' estimated number of NHL fans is roughly a third the number in Tampa (and less than a fifth the total in Quebec City); and quoted Forbes in reporting that those franchises lost a collective $51 million in the 2013-14 season.
Vegas' minor-league hockey team, which drew fewer spectators than its mid-level ECHL average of 4,500 per game, was disbanded this year, a symbolic sending of the city to hockey's sin bin, even as an NHL-regulation arena is being built near the gaudy, touristy Strip. The chances of tuning a fan base into game-attending routines appear further hindered by the city's irregular working hours and Vegas enterprises that operate without windows or clocks.
In sizing up its odds, then, NHL pooh-bahs might want to think about the location-location-location mantra of the real estate business. And recall how Canadian Jack Kent Cooke was talked into placing an NHL expansion team in Los Angeles in 1967 because, he was told, there were some 300,000 Canadian expats living in the region—only to be faced with lousy attendance.
"Now I know why they left Canada," Cooke said. "They hate hockey."
Climate change toward frozen ponds in Vegas doesn't sound like a good bet, either.