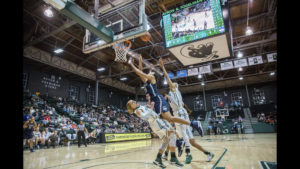 Allow yourself a rubbernecking moment. It's a rare thing for any team to go 100 games without losing, so this is a good time to tap the brakes and eyeball various aspects at play in the extraordinary UConn women's basketball streak.
There is, of course, the victory total itself, something no other college or professional team—men or women—has compiled. The numbers nuts out there recognize how forcefully UConn's record—up to 101 games by Feb. 18—blows away the 88 straight won by UCLA's men from 1970 to '74, the 33 in-a-row by the NBA's Lakers in 1972, the 47 consecutive college football victories by Oklahoma from 1953 to '57; the 35-game unbeaten run (with 10 ties) by the NHL's 1979-'80 Philadelphia Flyers.
Still, there somehow have been so-what reactions. Even, in the case of a Boston sportscaster named Tony Massarotti, a sneering, total dismissal of UConn's feat, based—counterintuitively—on the argument that too many of the UConn victories were too lopsided. "It doesn't count," Massarotti blustered. "Please. What a crock."
Wait. Might such a take have anything to do with gender?
In 1994, I was dispatched by Newsday to Chapel Hill, N.C., to seek metaphysical and cultural explanations for a situation similar to the current UConn basketball reign. The University of North Carolina women's soccer team had just lost for the first time in 102 games (with one tie). And lost for only the second time in 204 games over eight years (with another seven ties mixed in).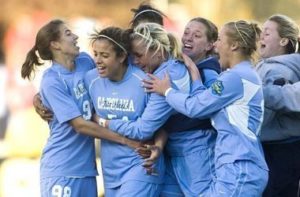 My clear impression was that Carolina's players approached their sport in the same way that Hall of Famer Bill Russell tackled his in a 13-year pro career during which he played for 11 NBA champions. Because there is a scoreboard, Russell once said, every athlete obviously plays to win.
The star of that '94 Carolina soccer team was Tisha Venturini, and what she noticed about her teammates' reactions, when their 102-game unbeaten streak was ended, didn't reflect the individuals' competitive will so much as their distinct personalities. "The ones who usually are emotional were crying hysterically," Venturini said, "and the ones who never get emotional were just stone-faced."
The team's coach then—and now, going into his 39th season—was Anson Dorrance, and it was he who wondered at both the meaning of victory and what he called "the guy thing."
"In our society," Dorrance said, "we put too much stock in athletic success and failure. That's men. Men lose sight of what's critically important, your reason in life and the quality of your relationships. I think men measure their lives in these kinds of successes and failures. Numbers. Streaks. I think that's why you see movies of the old high school quarterback pumping gas somewhere, to say: He just had a great arm; it didn't make him a great man."
That's like the Bruce Springsteen lyric about ephemeral eminence…
    I had a friend was a big baseball player back in high school.
    He could throw that speedball by you
    Make you look like a fool, boy.
    Saw him the other night at this roadside bar
    I was walking in, he was walking out.
    We went back inside sat down had a few drinks
    But all he kept talking about was
    Glory days, well they'll pass you by
    Glory days, in the wink of a young girl's eye…
Dorrance believed that he was "not a bad loser. One of the things I've never been able to accept about sports is that one team has to lose. And yet, I'm best at arranging for other teams to lose. I mean, there's something wrong with that, philosophically, don't you think?"
He admitted to being "teed off" by the losses, as astoundingly infrequent as they were, "yet, why does this irritate me that's I'm teed off? And if it irritates me that I'm teed off, why don't I sever that part of my personality? Because I don't want to? Is it just winning that I'm after?"
And is that really just a male trait?
Dorrance claimed that his female players "have taught me their ability to relate…they've taught me to be more human." Yet that didn't stop them from maintaining an athletic dominance. Since the team materialized in 1979, Carolina has won 22 national championships. "It's not world peace or cancer research," Dorrance readily conceded. But there was no getting around the fact that his players' accomplishments were "impressive. Heck, I'm impressed," he said.
Just as Carolina occasionally lost in soccer, UConn, at some point, will lose a basketball game. Because there are scoreboards and two teams trying to win. But when a team—any team—wins more than 100 consecutive games, it counts.