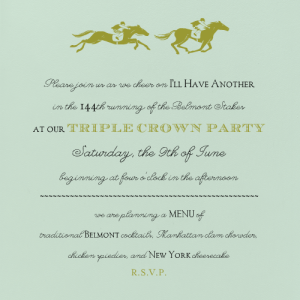 Let us apply a little horse sense to what is becoming a mostly annual, and regularly futile, pursuit of thoroughbred racing's Triple Crown.
1) A Kentucky Derby-Preakness-Belmont Stakes sweep hasn't been completed since 1978. 2) Of the last 13 steeds to take the first two races in the sport's premier series over that span, all 13 were established as betting favorites to win the third—as is this year's "superhorse," American Pharoah. 3) None did, including I'll Have Another, who was scratched the day before the race with a leg injury two years ago.
But, 4) It's the journey, not the destination, that matters.
It's the build-up, the tantalizing drama of yet another Triple Crown attempt, that ratchets up interest beyond the Daily Racing Form aficionados. It's the anticipation, growing with each unfulfilled try, that reinforces the difficulty of winning a Triple Crown—and therefore provides the allure to casual observers.
Duke University anthropology professor Orin Starn has equated the Triple Crown series to "a good play. If the first and second acts are good, you're riveted for that third act." He noted how television packages the three races as something of a soap opera, with the realization that most of the TV audience doesn't know much about the sport but can be drawn into the back stories of horse owners, trainers and jockeys. Non-racing fans can be enthralled by the spectacle and tradition of the Spring events—stylish women in fancy hats, beautiful animals, teary-eye crowds singing "My Old Kentucky Home."
Horse racing has been in decline for decades, increasingly elbowed aside by casino gambling, and it is only during the five weeks of Triple Crown season that a significant portion of the hoi polloi pays any attention. And it is only in the years when one horse wins the first two jewels of the crown that there suddenly is an equine with a vaguely familiar name, appreciably enhancing public awareness.
So, virtually from the moment American Pharoah became the 10th Double Crown winner in the last 18 years on May 16, adding the Preakness title to his Kentucky Derby success, conversation of ending the 37-year drought was at full volume. Immediately, Pharoah-related stories filled the media: From hard-core racing analysis to reports on how "Pharaoh" is misspelled. (Ancient Egyptian rulers, or tyrants, were "pharaohs.") The "538" Web site provided a chart of bettors' expectations, entering the Belmont, of a completed Triple Crown for the last 13 candidates, noting that the percentages were as high as 70 for only three horses—Spectacular Bid (76.9) in 1979, Smarty Jones (74.1) in 2004 and Big Brown (76.9) in 2008. All losers, or course.
I covered Big Brown's Preakness victory, which prompted awed horse people to declare him a "freak," "superstar," "monster," "a tremendous horse," "the real deal," "almost a man among boys." One rival trainer, Patrick Gallagher, was so carried away that he said Big Brown might win the Belmont by more than the incomparable Secretariat's unreasonable 31 lengths in 1973.
Alas, Big Brown melted down in the final turn and walked home dead last. But the point is that the pre-race fuss he created meant the second-highest on-track betting handle in Belmont history at the time—more than $13 million—and a crowd of 94,476.
The eight largest crowds in Belmont history, in fact, all have come since 1998, and all when the possibility of a Triple Crown existed, topping out at 120,139 in 2004 (when Smarty Jones was upset), and hitting 102,199 last year (as California Chrome was beaten). Even with this year's cap on ticket sales at 90,000, there will be a typical Triple Crown-threat attendance figure. Since 2000, whenever no Triple Crown was a stake, Belmont Stakes Day drew between 45,000 and 73,000.
Likewise, as Richard Sandomir recently reported in the New York Times, 20.5 million watched the Belmont on television last year to see California Chrome's Triple Crown bid, compared to an average (since 1992) of 5.9 million without a Triple Crown at stake.
Here, then, is my two-cents-worth wager that the racing's winning ticket for this season already is cashed, whether or not American Pharoah prevails. Because, either way, the boost to racing is substantial. And, either way, it's temporary. Trainer Nick Zito, whose Birdstone ended Smarty Jones' Triple Crown bid in 2004, told USA Today this week that he is "not too sure" an American Pharoah victory will make that much difference to the industry.
When Tonalist prevailed in last year's Belmont, with Derby-Preakness champ California Chrome left in a tie for fourth, Tonalist trainer Christophe Clement made the legitimate observation that "this is nothing negative. California Chrome created a wonderful thing. Five-thirty in the morning, 500 or 600 people came to see him train [in the Belmont run-up]. That was great. It was wonderful to see the large crowd [at the race]. But it's nothing negative. The Triple Crown: If it was easy to do, it would mean nothing."
Besides, not everybody lost. For a $2 bet on the lightly regarded Tonalist, my wife emerged $20.40 richer.