To accurately portray the first-ever NBA draft lottery 30 years ago, when the New York Knicks hit the Patrick Ewing jackpot and the rest of the league was tempted to cry, "Fix!", it is necessary to recall one of Johnny Carson's dopey Tonight Show skits of that era.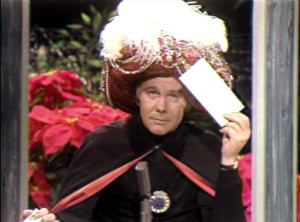 In the recurring routine, Carson would wear a goofy feathered turban and cape, introduced by sidekick Ed McMahon as "the great seer, soothsayer and sage, Carnac the Magnificent." McMahon would hand Carnac an envelope, "hermetically sealed, kept in a No. 2 mayonnaise jar on Funk and Wagnalls back porch since noon today" so that "no one," McMahon emphasized, could possibly know the questions contained in the envelopes.
Carnac, in his "divine and borderline mystical way," would then hold a sealed envelope to his head, intuit an answer, dramatically open the envelope, extract its contents and reveal the question. Always a groan-inducing play on words.
So, here we were in the beautiful Starlight Room of the world-famous Waldorf-Astoria Hotel on Mother's Day, 1985, not entirely sure if anything about the NBA production should be taken seriously. There were Wells Fargo guards at the door. There were representatives of the NBA's seven worse teams—those that had failed to make that year's playoffs—seated as a panel behind a podium, like wax figures seeming to melt under TV klieg lights. (The event was being staged during halftime of a nationally televised CBS playoff game.)
NBA commissioner David Stern was functioning as a sort of game-show host, assuring that the seven one-foot-square envelopes—each containing the logo of one of the eligible teams—had been loaded and sealed a half-hour earlier by a man from the international accounting firm Ernst & Whinney. Privately. In a back room. And were not out of his possession since.
The place was packed with cameras, reporters and members of the Knicks organization. Everyone knew that Ewing, the seven-foot all-American from Georgetown University, was the top prize, and that the team that drew the No. 1 pick would draft him without hesitation, thereby becoming an instant playoff contender.
A Knicks publicity man, Carl Martin, was walking around holding lucky horseshoes said to be from the feet of a pacing champion named On the Road Again. And Stern began to pull envelopes, one at a time, from a large clear tumbler, determining the draft order in reverse, from seventh to first.
The first drawn was Golden State, for the No. 7 pick. That team's general manager, Al Attles, shook his head sadly as Atlanta GM Stan Kasten, seated next to him, patted Attles' arm in sympathy. Then Sacramento, No. 6. Atlanta, No. 5. Seattle, No. 4….
Whistling and clapping began to intensify in the room. Los Angeles Clippers, No. 3…
The sense was that Stern, any minute, would don a turban and cape, press one of the envelopes to his head and give some variation of a Carnac gag: "The answer is, 'A palm reader, a psychic and Patrick Ewing.'"
Then Stern surely would rip open the envelope, blow noisily into the thing, fish out the answer and broadcast, "Name two mediums and an extra-large."
Which, in a way, is what happened. It was like a parody. A lampoon.
When Stern opened the next-to-last envelope and announced that the No. 2 draft choice went to Indiana, and that left No. 1—and Ewing—for the Knicks, the room immediately was up for grabs. Martin, the Knicks P.R. fellow, was waving the horseshoes and shouting, "It worked! It worked!" Knicks general manager Dave DeBusschere, after clenching his fists, hammering the table and leaping up, began taking deep breaths.
Any second, it looked as if DeBusschere would weep tears of joy, like some Miss America winner, while somebody put a crown on his head and a bouquet of flowers in his hands.
Then, in what appeared a divine and borderline mystical way, DeBusschere whipped out a white Knicks jersey with the number "33" on the back, below the name "Ewing." He had had the shirt made earlier in the week but "kept it really quiet," he said. "I figured, 'What's it going to cost, even if we do have to throw it away?"
In the chaos, I was compelled to ask Herb Simon, who co-owned the runner-up Indiana Pacers with his brother Mel, what he thought about the process.
"I told Mel, 'Keep an eye on the drum to make sure it's on the up-and-up,'" Simon said, then called over the Mel, a few feet away, "Mel, was it on the up-and-up?"
Mel Simon called back, "I think Stern had a magnet on his ring."
It was all about the punch line that day. Not that everyone laughed.