For 43 years, the Islanders-Rangers story has been a hockey version of the old country mouse-city mouse fable. A practical dwelling of simple tastes and no frills (Nassau Coliseum) for one, big-city opulence and celebrity treatment (Madison Square Garden) for the other. But each eventually content with its own lot and the realization that tastes can differ.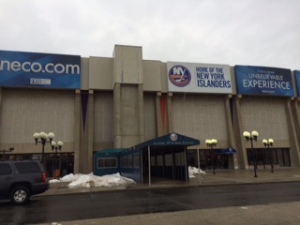 Let's think about this, on the occasion of what may have been the last Islanders-Rangers game—the 126th, lively as ever, going back to 1972—at the country-mouse residence this week. (The rivals could reconvene there in the playoffs, though they haven't done so in the post-season since 1994.) Next season, when the Islanders relocate to Brooklyn, within the New York City limits, do they—and perhaps more specifically, their fans—lose their very identity? Do the Islanders merely become Rangers Lite?
Much of any sports team's connection to its home base is perception. Not a single player on the Islanders' current roster—made up of Americans, Canadians, Slovaks, a Czech, Austrian, Dane, Russian and Belarussian—hails from Long Island. Nor do any of the Rangers—a collection of lads from the U.S., Canada, Sweden and Norway—come from New York City. For their original meeting lo those many years ago, every Islander and every Ranger had come from north of the border: It was our Canadians against your Canadians.
Another geographical paradox is they are called the "New York Islanders"—rather than the Long Island (Somethings)—because original owner Roy Boe believed the "New York" label was more spectacular. More big league. Also, there was a general feeling in the Islanders' early days that much of their potential audience would be Rangers' fans unable to obtain tickets to games at the sold-out Garden.
Soon enough, though, the Islanders were champions. And, with the bandwagon effect, something more emotional and tribe-like than general product loyalty, the Islanders were seen as representatives of the Island—a photo negative of Manhattan—to their large and passionate fan base. Born and raised there; not New York City ex-pats. Working class; not fancy-schmancy Big Town sophisticates.
It was the Islanders' comparatively rustic setting which convinced Al Arbour (whose very surname suggested leafy, shady surroundings) to sign on as coach and led to a four-year reign as Stanley Cup champions. Arbour had made it clear that he didn't want to live among skyscrapers and concrete, which had been his idea of a "New York" team.
And it was the Islanders' 1975 elimination of the Rangers from the Stanley Cup playoffs, only two seasons after they materialized as an expansion team, that provided the Island—a suburban sprawl forever in the entertainment and psychological shadow of Gotham—its first Carnegie Hall, Broadway show parity.
At the time, the "bumpkin" Islanders—as then-general manager Bill Torrey sarcastically described them to Newsday's Mark Herrmann recently—jealously resented how Madison Avenue and the city media fawned over the Rangers, even as the Islanders were quickly developing into a powerhouse team.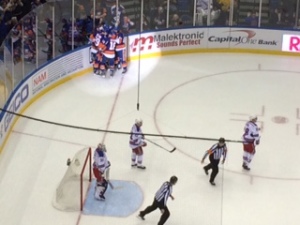 But when the Islanders began their run of championships in 1980 and it was suggested that it was "New York's" first Stanley Cup since the Rangers' 1940 title, feisty Islanders goalie Billy Smith declared, "The Stanley Cup is not in New York. It's on Long Island." That was a country mouse who came to appreciate his circumstance.
What, then, is the parable of gentrification? With the Islanders running away to Brooklyn, team ownership is saying that it is too good for the humble old Coliseum? (Might it be that fans stayed away from home games the past few years not because of an inferior building but rather an inferior team? They have come back to regularly fill, and dramatically energize, the place this season now that the Islanders at last are contenders again.)
A further insult to Island hockey fans are published reports that the Islanders' Bridgeport farm team will settle in at the Coliseum. (Subliminal message: The minor leagues are good enough for you rubes.) That news circulates even as the parent club is trying to convince season ticket holders to follow it to the Barclays Center, an arena designed for basketball that can't match the Coliseum for having no bad seat in the house.
The players—like all professional athletes, their primary association and commitment is to teammates, coaches and staff—acknowledge the "breaking-in period," as Islanders captain John Tavares put it, regarding the Brooklyn move. It is not his place to question such management decisions, but in his six seasons, Tavares has come to believe that "what makes the [Islanders-Rangers] rivalry so great is that you have two such passionate fan bases. I think people from Long Island are very proud. I'm sure people from the city are the same…."
At this week's (possibly) final Coliseum match between the country and city teams, message boards repeatedly vowed to Islanders fans, "We Play for You!"
For a few more weeks, anyway. (Will they at least leave the championship banners and plaques behind?)
And then, it sounds like: So long, suckers.