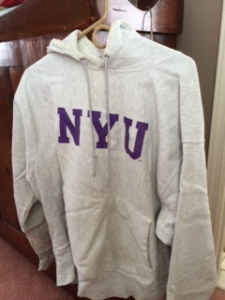 The thing about NYU's 2015 baseball team—the school's first in that intercollegiate sport since 1974, as the New York Times reported this week—is that it is real. I make this distinction because, 15 years ago, I found myself following (through the school's student newspaper) an NYU football juggernaut that turned out to be the athletic version of a unicorn.
The Violet gridders of 2000, according to regular dispatches by sports reporter Ryse Dwillin in the Washington Square News, were romping (allegedly) past opponents from Brandeis, the University of Chicago, Vassar, Washington U. of St. Louis and Whitman College of Walla Walla, Wash.
Not that many people would have been expected to notice. NYU's athletic operation—with the exception of a powerhouse fencing team—had dropped off the Division I sports radar a quarter-century before. And New Yorkers' sporting passions long ago turned almost exclusively toward professional teams. Especially that fall, a Yankees-Mets World Series and the Giants' run to the Super Bowl were taking up virtually all of fans' oxygen.
At the time, though, I had a significant connection to NYU, in the form of tuition payments for my daughter, herself a Washington Square News staffer. So, late that autumn, as NYU appeared positioned for the Division III national playoffs, I could have generated some rooting fervor for the lads in purple and white.
Then, on Dec. 7, the Washington Square News published a short note from the editor, beginning,
"We'd like to come clean: There is no football team at NYU."
A shocking Brian Williams moment? A reckless squandering of journalistic credibility? Or just a good college giggle, in the honored tradition of sly sarcasm?
One WSN account of the rampaging mythological team had roguishly quoted made-up quarterback Joel Luber's complaint—a cliché in the real world of successful athletes who somehow feel unappreciated—that "none of the critics thought we were for real."
Of course, they weren't. Neither was the team's beat writer. (Ryse Dwillin was an anagram, with an extra "i," of actual reporter Will Snyder). Nor did coach Jack Wizzenhunt nor star tailback Ahmed El Kahloul exist, nor a play called "the Rooster," wherein El Kahloul would hide the ball between his legs.
Eventually, what most surprised the playful Frankensteins who created that football monster was that a few readers didn't get what they considered an obvious joke. There were some calls asking where to buy football tickets and how to try out for the team.
The whole thing was meant to lampoon the decidedly low visibility of NYU sports, even among its student body. Then, as now, most of the school's intercollegiate teams played their "home" games nowhere near the bustling Greenwich Village campus, at such distant venues as Bloomfield, N.J., up-state Suffern, Upper Manhattan, the Bronx and Queens. (The revived baseball team's home field is on Brooklyn's Coney Island.)
There certainly is some irony in the fact that NYU currently fields 21 intercollegiate sports teams—11 for men, 10 for women—and legitimately can argue that its athletic emphasis is on serving students interested in competition. As opposed to, say, the University of Alabama, which has seven men's teams and 10 women's. In such an environment as Alabama's, where King Football rules, a multi-million dollar entertainment business—based as it is on the labor of quasi-students—serves first to please alumni, television executives, sponsors, fabulously paid coaches and gamblers.
So, in the end, which is the lie? The grand spoofs, or the thing that inspires them—thoroughly professional big-time college sports programs hiding behind a claim of student-athlete amateurism?
Long before the fictional NYU gridders, there was the 1941 Plainfield Teachers College football team, and the Maguire University basketball team of the 1970s.
Annoyed by the attention paid to major-college football at the expense of smaller institutions, a Wall Street broker named Morris Newburger fabricated Plainfield (and an entire 10-team conference) with a simple telephone call reporting a final score to a major New York City newspaper. When the paper's staff at last realized that it has been hoodwinked, Newburger issued a press release saying 15 Plainfield players had been declared academically ineligible  and that the coach chose to cancel the remainder of the season.
Maguire materialized from regular gatherings of high school coaches and college scouts at a Chicago bar—Maguire's—who tweaked the NCAA's policing naivete. As a prank, those fellows simply submitted information about their "school" nickname (the Jollymen), colors (green and white), and college president (Dr. Mel Connolly, actually a truck driver—his real name, minus the "doctor" title—who regularly could be found in his "office" at Maguire's). Maguire's subsequently received tickets to two Final Four tournaments until a Chicago columnist spilled the beans.
What we seem to have with these hoaxes is not so much nefarious prevarications but something on the order of Stephen Colbert's "truthiness"—characterizing a "truth" as something that, while not exactly based on fact, points to the absurdity of real events.
My former Newsday colleague Stan Isaacs—a man with a twinkle in his eye who was a giant among sports journalists—years ago became so convinced that only bettors scoured the college basketball scores that he added his own invented schools to the newspaper's list of results.
His favorite was Chelm University, which he named for a town in Yiddish folklore inhabited by people who were good-natured but stupid. There is no record that Chelm ever lost a game.