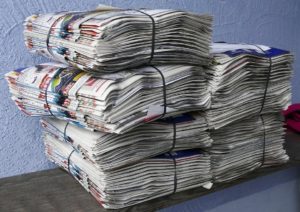 Once upon a time there were these things known as newspapers. This was long before smart phones and laptops and iPads. And in those newspapers—so-called because they consisted of pages of paper that printed news (among other things)—were sections devoted to what were known as "the comics." Or "the funnies."
Not all of the funnies were funny. Some were detective mysteries or futurist tales in space. But most, using cartoon images, offered gags and satire to comment on life, often more insightfully than the paper's journalistic reports on business, politics and tragedy.
I think of the old funnies, and how central they were to my life-long attraction to newspapers, because Mort Walker died last week, at 94. Never met the man, but I have rubbed elbows with his most famous creation, Beetle Bailey.
It happens that Walker found the inspiration for Beetle, an abject goof-off and straggler among a cast of military-base misfits, during his time in the University of Missouri's School of Journalism, where I enrolled 17 years after Beetle's 1950 debut. And, once upon a time at Mizzou, there was this tumble-down campus hangout—appropriately known as The Shack—green exterior and, inside, a dark, tangled den of low ceilings and wooden tables, all of which were furrowed with generations of carved initials and graffiti.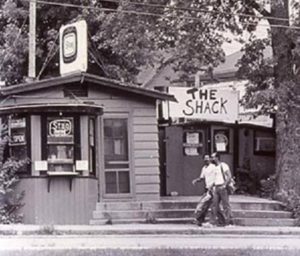 By the time I arrived on the scene, the 1956 hit song "Green Door" was well past its shelf life. But not on The Shack's jukebox, because the story was that "Green Door" was inspired by The Shack. It was sung by a fellow named Jim Lowe, who had attended the University, and was popular enough that it had bumped Elvis Presley's "Love Me Tender" from the top of the Billboard charts.
So part of The Shack's atmosphere, amid the hubbub of beers, burgers and not-necessarily scholastic discussions, was the regular playing of "Green Door":
https://www.youtube.com/watch?v=PUzr0AOwIhk
Anyway, Walker had returned to Mizzou in 1947 after completing his World War II Army duty, which he later said provided him "almost four years of free research" toward the Beetle Bailey strip. At the University, he dreamed up a character named Spider—Beetle's forerunner—while while working as editor of Missouri Showme magazine.
When a dispute between the publication and the journalism department left him without an office, Walker and the magazine's staffers regularly worked out of The Shack, where he is said to have confessed spending far more time than in J-School.
It is possible to find Walker cartoons of Beetle lounging with a foaming mug of beer and a carving knife on a Shack-like table. Also, Walker cartoons of Beetle returning to his college, with its striking resemblance to Mizzou. Since 1992, there has been a Beetle sculpture near the site of the long-gone Shack. Also in The Shack motif.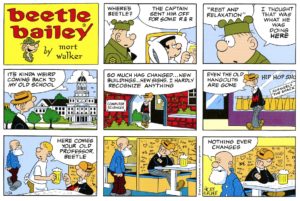 When Mizzou built a new student center in 2010, it included a section called "Mort's Place"—a games-and-grill area with a replicated interior of The Shack (though it is far too modern and clean to fully capture the old joint.) There is a Beetle statue there, and a wall with large blowups of Beetle Bailey strips.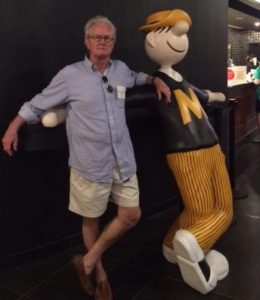 And that's where I last hung out with Beetle a couple of years ago. And learned that the student giving tours of "Mort's Place" hadn't heard of the song "Green Door." (He should Google it.)
I must acknowledge entering the gigantic tent of Beetle Bailey enthusiasts late. As a grade-schooler, when I began drawing my own, almost daily four-panel comic strip—short-lived and unpublished; only my mother saw it—I was a Dick Tracy fan, not sophisticated enough to get the subtleties of Beetle's Camp Swampy doings.
But the wit and perception of Walker's work soon got through to me, even as I began to migrate from reading the funnies first, to prioritizing the sports pages, and eventually the news section. This may come as a surprise to many people, but there still are newspapers, though barely. Thank God. And though Mort Walker is gone, at least Beetle Bailey and The Shack live on.