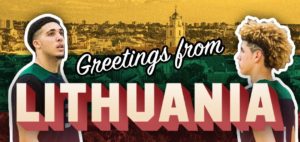 If all that matters to the Ball brothers is basketball, then packing 19-year-old LiAngelo and 16-year-old LaMelo Ball off to the small Baltic nation of Lithuania isn't so far-fetched.
Basketball is the most popular sport in Lithuania. A country of only 2.8 million (roughly the population of Chicago), Lithuania has produced 12 NBA players, with two currently in the league. The last time the former Soviet Union won an Olympic basketball gold medal, in 1988, four of the team's five starters were Lithuanian. Since the breakup of the Soviet Union, independent Lithuania has qualified for all seven Olympic basketball tournaments, three times winning the bronze medal and twice finishing fourth.
From a distance, the paternal decision by LaVar Ball to pull his two younger sons—a high school junior and college freshman—out of school and sign them to one-year contracts in Lithuania's professional league falls somewhere between puzzling and foolish. Especially when one considers that LiAngelo so recently demonstrated an inability to comprehend proper behavior while abroad.
It was LiAngelo's arrest for shoplifting in China, while on an exhibition tour with the UCLA basketball team in November, that briefly landed him in jail, brought his suspension from the UCLA team and led his father to scuttle his college career before it started.
In an interview on the "Today" show shortly after the Chinese released him to return home, LiAngelo described the "horrible" incident in which he sat in a "cement jail" where the officers "don't speak English." Though English is widely spoken in Lithuania, there also is no evidence that the Balls speak Lithuanian. The potential of an international incident appears possible.
But, if this is strictly about basketball, and not an attempt to learn another language or another culture, the Balls and Lithuanians have plenty in common. Start with the fact that a young Lithuanian journalist was so tuned into U.S. basketball doings, and the free agency LaVar Ball had just established for his sons, that he initiated the contact to bring the Balls to his hometown team in Prienai, a burg of just 10,000.
And, if the Balls don't already know it, perhaps they soon will learn Lithuania's historic connection to UCLA, where the oldest Ball lad, Lonzo, played one season before he was drafted by the Los Angeles Lakers last spring.
In 1936, it was UCLA grad Frank Lubin who was hired as Lithuania's first coach of its national basketball team, based on the fact that the American-born and -raised Lubin was the son of Lithuanian immigrants and had demonstrated his hoops bona fides that year as a member of the United States' Olympic champions. That was prior to the USSR's annexation of Lithuania and the other two Baltic republics in the early 1940s.
Lubin—his name in Lithuanian was Pranas Lubinas—began by using American-born players of Lithuanian heritage to win the European championships in 1937 and '39 (for a while, he was the team's player-coach). For his contributions to that nation in his sport, Lubin, who died in 1999, has been called the "grandfather of Lithuanian basketball."
Could it be that UCLA's loss—all three Ball sons had committed to play for the school at one point, though the last two haven't followed through—again is Lithuania's gain? Or does LaVar Ball, with such blind ambition for his sons, consider the brief Lithuania project merely a Seeing Eye Dog for their basketball future?