A Barcelona waiter told me, "To a lot of people here, there is no Spain."
That was 25 years ago, during the 1992 Olympics. That was a quarter century before the current confrontation between Spain's central government and separatists in the country's autonomous region of Catalonia, of which Barcelona is the capital.
At the time, and in the midst of the celebratory Olympic festival, declarations of Catalan identity didn't sound revolutionary. Rather, they seemed expressions of local pride. We visitors quickly learned that, while Spanish was spoken in that technically Spanish city, the preferred language was Catalan. Residents and businesses displayed the flags of Barcelona and of Catalonia, not Spain.
In Barcelona, there was this hint of Catalan superiority which partly manifested itself in the widespread rejection of bullfighting, a sport the locals considered more appropriate for the barbarians in Spain—that other country. Barcelona saw itself as more European than other cities on the Iberian Peninsula, more wealthy and sophisticated.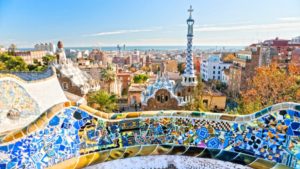 Catalans were proud to claim surrealist painter Salvador Dali as one of their own, as well as Art Nouveau architect Antonio Gaudi, whose elaborate, vaguely phantasmagorical designs lend such a unique style to Barcelona's landscape. The city also took ownership of Picasso, though he was born in southern Spain and a resident of France most of his life, because he spent the productive years of his radical painting in Barcelona.
So the 2017 developments, of Catalan referendums for independence and the backlash of Spanish leaders' no-negotiation stance against them, feel considerably more serious—and dangerous—than during the '92 Olympics. Back then, the Catalan-Spanish antagonism didn't appear more threatening than a sports rivalry, which could be summed up in the way Barcelonans treated two local tennis stars during the Games.
One, Arantxa Sanchez Vicario, was cheered because she was born in Barcelona. The other, her brother Emilio, was booed because he was born in Madrid, though he lived most of his life in Barcelona. It was an "us against them" posture, but good-natured enough that the old Saturday Night Live news parody, repeating on a weekly basis that "Generalissimo Francisco Franco is still dead," applied pretty well.
The iron grip of the dictator Franco over Catalonia, his 40-year smothering of Catalan language and culture, in fact had been loosened. It turns out, though, that too much of Franco's era still lingered. And that century-old resentments, while mostly just below the surface, weren't so hard to find.
During the Barcelona Olympics' opening ceremonies, the King of Spain, Juan Carlos, was greeted with the playing of Els Segadors, the official national anthem of Catalonia, which had been written 352 years earlier to celebrate the Catalan victory over the 17th-Century Spanish king Philip IV. And Catalans still celebrate National Day on Sept. 11, recalling Catalonia's loss of independence to Spain in 1714.
To prepare for covering the '92 Olympics, I had read George Orwell's 1938 book, "Homage to Catalonia," a personal account of Orwell's experiences and observations during the Spanish Civil War. (When, by the way, Els Segadors surged in popularity among Catalans.) Franco, of course, rose to power at the conclusion of that war.
Now I read that, to many in Catalonia, the crackdown by Spain's central government evokes memories of the dark days of post-civil war dictatorship. As if Generalissimo Francisco Franco is still not dead.