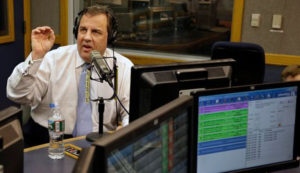 As a sports journalist, I am offended that New York's original sports talk radio station this week auditioned New Jersey governor Chris Christie for a job. Of course, as a sports journalist, I already was offended by sports talk radio, which long ago poisoned the discourse over matters of less-than-earthshaking importance.
And the unhappy truth is that Christie and sports talk radio's in-your-face format share the same space on a Venn diagram. Regularly rude in his dealings with his Jersey constituents, Christie was predictably insulting to a couple of callers to station WFAN during his tryout. He even complained that he had been "screwed" by his potential employers for putting him on the air on "the two worst sports days of the year."
But this is where we are with this vacuous programing. An NJ.com evaluation of Christie's gig judged it a primary "strength" that he was "opinionated and combative."
As opposed to, say, informative.
Here's the point (reinforced by WFAN's current self-congratulatory celebration of its 30th anniversary and the simultaneous fawning over the "legacy" of its caterwauling former partners Mike Francesa and Chris Russo): Conflict and partisan outrage may sell—especially to a target audience of young males—but they aren't the least bit illuminating.
Yes, sports talk radio—fueled by the hassling, arrogant model of Francesa and Russo—has wildly proliferated since WFAN's debut in 1987. And, by taking frivolous sports arguments from barstools onto the public airwaves, it has superseded the real sports journalism in newspapers and magazines, influencing far too many editors to dumb down their products.
In the new ESPN 30-for-30 film documenting the 19-year Francesa-Russo collaboration, there is plenty of detail about the pair's celebrity and vocal version of professional wrestling. But, as Neil Genzlinger's New York Times review of the show noted, "It would have been nice to hear Mr. Russo and Mr. Francesa reflect on how they viewed their roles—were they just there to entertain and antagonize in a quest for ratings, or to educate, facilitate and investigate?"
I think I know the answer. There never was any real possibility that a listener could learn much from those two know-it-alls—who, by the way, often displayed a complete lack of interest or familiarity with sports beyond baseball, basketball and football—shouting over each other's deranged bellowing.
Naturally dozens, then hundreds, of radio stations (now 790 around the country) copied them. The disputes and sensationalism, the scorn and ridicule, quickly leeched into cable television and its Hot Take sports shows, wherein two or more so-called experts participate in skirmishes essentially boiling down to one fellow—it's almost always men—making some blanket statement meant to reduce everyone else's opinion to garbage.
Amid the rumpus, nothing is really thoughtful. Nothing adds to the marketplace of ideas. Nothing goes deeper than caffeinated judgments of a player's or coach's bumhood and how everything could be solved by taking the talking (screaming) head's advice. (My friend Pat Borzi, a freelance writer based in Minneapolis, once astutely observed that "the best thing for sports talk radio is the home team's 10-game losing streak.")
The objective is heat, not light. Sports talk radio, rather than evocative, is merely provocative. It's about rubbing two sticks together.
So here's Chris Christie, often described as a bully and known to sometimes play fast and loose with the truth, campaigning for the job Francesa has said he will leave in December. Like Francesa, the New York Post's Phil Mushnick wrote, Christie "treats listeners as if they're too stupid to recognize that he messes with facts."
Facts? As a journalist, I made a decision years ago: Switch the dial to NPR.