To have every Major League player wearing No. 42 for games on April 15 these past eight years, as they did again Wednesday, is poignantly contrary to Brooklyn Dodger outfielder Gene Hermanski's dark humor on a 1947 evening in Atlanta.
The Dodgers were about to play an exhibition game that night with Jackie Robinson in uniform No. 42. As the first black man on a big-league roster, in the days of Jim Crow, Robinson couldn't be missed among his all-white teammates, no matter his raiment, and there had been a telephone call promising that if Robinson stepped onto the field, he would be shot. In the pre-game clubhouse, Hermanski offered, "Why don't we all wear No. 42? They won't know who to hit."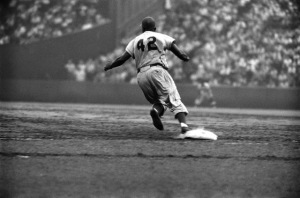 So we have continuity with an encouraging twist. From Robinson's solitary mission to personally integrate baseball, which was legitimately the "national pastime" when the populace was barely aware of the NFL or the brand-new NBA, we now have solidarity. Everyone, for one night, dresses up like Jackie Robinson on the anniversary of his first big-league game.
It is a nice gesture to an historic figure.  Although, by and large, it doesn't go much beyond a passing reference to a man—and a time—that current players and citizens born after 1947 can barely fathom. "Babe Ruth changed baseball," Long Island University history professor Joe Dorinson said. "Jackie Robinson changed America, which in the long run is more important."
When we spoke briefly by phone on Thursday, Dorinson was on his way to teaching his "History of Sports: A search for heroes" class. "I am wearing," he said, "my Brooklyn Dodgers No. 42 uniform shirt." Dorinson happens to be among the prominent Jackie Robinson scholars and in 1997, the 50th anniversary of Robinson breaking baseball's color line, Dorinson was co-coordinator of a massive Jackie Robinson symposium at LIU.
Dorinson preaches that sports "is not only a mirror on society but also a catalyst to produce social change," and that three-day 1997 LIU academic conference demonstrated by gathering historians, baseball experts, old ballplayers, psychologists and just plain fans to sort out Robinson and his consequential legacy.
Recent events beyond athletic fields continue to confirm that a post-racial America hardly is a settled issue. But Dorinson has quoted the late historian Jules Tygiel (who had participated in the Robinson symposium) that "Jackie Robinson's story, like the story of Passover, has to be retold each year. As the Jews were once slaves in Egypt, blacks were slaves in America, and the Jackie Robinson story brings renewal and hope."
So, while there is consternation in some circles that the percentage of American blacks in Major League baseball actually has fallen in recent years—from a high of 17 percent in 1997 to 8.2 percent now—the Robinson inheritance lives on as one of diversity, of increased opportunity in American sports for Latinos, women, Asians. From being 100-percent white in 1946, the Majors' current rosters are roughly 60 percent white. A real meritocracy.
George Vecsey, a giant in sports journalism, recently shared a poem on his Web site from Charles Barasch's 2008 book, "Dreams of the Presidents," in which Barasch imagined William Taft's reverie of pitching in relief of Taft-era Hall of Famer Walter Johnson. Taft, the first President to throw out a ceremonial first pitch at a major league game (in 1910), fancies himself—in the Barasch verse—being beckoned from the stands, removing his tie and cuff links, rolling up his sleeves and striking out Ty Cobb.
And then retiring both Booker T. Washington and W.E.B. DuBois. Black men. In the big leagues.
In reality, in those decades before Jackie Robinson, what seems normal now—to have a prominent sports league's workforce mostly reflecting the population in general—didn't exist. Only with the appearance of Robinson, essayist Roger Rosenblatt told the 1997 LIU symposium attendees, was there "a victory over absurdity. Victory over the ludicrous….When Robinson played, he turned an upside-down nation right-side up. Life created by white America for black America is nuts. Enter Jackie Robinson, to show us the nonsense in his bright, aristocratic way."
Robinson, of course, was a baseball superstar. A .311 hitter over 10 seasons, the leader or six league championship teams, Rookie of the Year in 1947 and league MVP two seasons later, holder of the ungodly statistic of stealing home 20 times, inducted into the Hall of Fame in 1972.
Much more than all that, he was a poke in the eye of an unjust world, an elbow in the ribs on an unfair society not living up to its ideal of all men being created equal. Yet a fellow who tempered his on-field aggressiveness with years of turning the other cheek to outrageous insults. Yeshiva University English professor Manfred Weidhorn called Robinson "a rare case of applied Christianity."
Another April 15 is a reminder: Even if we all don No. 42, there's no mistaking which of us is Jackie Robinson.