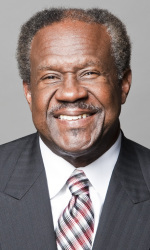 A recent Facebook posting was linked to a North Texas State University student newspaper's article about the school's associate head basketball coach, Rob Evans. And that set off my free-association memory of a scales-falling-from the-eyes-moment.
He was Robert Evans to us Hobbs (N.M.) High School classmates in the mid 1960s. Quiet, with a 100-watt smile. A stylish fellow, he always seemed to be wearing a pressed white shirt. He was a starting forward on the 1964 basketball varsity that lost only once—in the state championship game, by one measly point, to a team (hated Roswell) that Hobbs had beaten three times earlier in the season. Robert had silken offensive moves and played suffocating defense in Hobbs' relentless all-game full-court press.
He was a grade ahead of me, so our acquaintance didn't go much beyond friendly hallway greetings and the fact that, as sports editor/photographer for the school newspaper, I witnessed—and recorded—much of Robert's significant contribution to the basketball team's heroics. I also took pictures for the school yearbook, and I'm pretty sure that's my staged photo, among the collection of individual players' shots, of Robert throwing a behind-the-back pass. (I was slow on the trigger: The ball already is out of the frame.)
Anyway, in my sheltered, privileged existence, I unconsciously assumed that Robert, along with all my fellow teenagers, lived essentially the same life I did. Nice house, leafy neighborhood, no real cares beyond typical 16-year-old angst over matters of popularity and acne. A guy like Robert, furthermore, was something of a celebrity; I certainly didn't have the jump shot he put on display for the varsity crowds in excess of 3,000 people.
So here came the moment of revelation. During my first two weeks each summer, before I commenced three months of relatively lucrative (for a high school kid) work as an oil-field roustabout, I was the vacation replacement for a man who delivered Western Union telegrams around town. As if my own means of daily transportation—a hand-me-down, putt-putt Cushman scooter from my brother—weren't dorky enough, the Western Union job required I wear a little yellow helmet in public. But it was my first paying job and, unlike the oil-field gig, which was purposed to earn college tuition, I had my parents' permission to spend my Western Union earnings right away.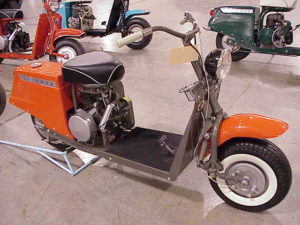 I bought a better camera.
Anyway, it quickly became apparent that in those days in Hobbs, an oil-patch town hard against the West Texas border, telegrams went either to local businesses or to residences without the benefit of a telephone. And the latter locations were in a part of town I previously was unaware existed. Unpaved streets. Sad wooden shacks. The folks who answered the doors there always were black.
Robert Evans is black. Yet I somehow was stunned to see him walking down one of those dusty roads one day, exchanging a smile and a wave, as I went about my Western Union rounds. My first thought—a dumb, naïve reaction—was something along the lines of, "What is he doing here?"
Or maybe: What is this run-down district doing in my seemingly comfortable little town? The one substantial brick house in that neighborhood, I later learned, belonged to the mother of Bill Bridges, a former Hobbs High basketball star who was playing for the NBA's St. Louis Hawks at the time.
This was an overdue bit of education. All my interactions with other students had been on the sprawling, well-appointed high school campus. I had arrived in Hobbs from southern California for my sophomore year in 1962, and was surprised to hear, one morning from Mrs. Hill in our American History class, how relieved she had been over the Hobbs schools' trouble-free response to the Brown v. Board of Education ruling eight years earlier. Another numbskull reaction from me: Hadn't everybody just gotten on with integration?
Because my parents died shortly after my high school graduation, I was taken permanently away from Hobbs by college and work and fell out of touch with virtually everyone from those days. My loss. But I did bump into Robert after my freshman year of college at the big pond north of town—we called it Lake Inferior—where a friend of my brother's had invited us to visit and partake in some water skiing. And I later read of Robert's basketball career at New Mexico State, in particular his role in New Mexico State's close loss to eventual NCAA champion UCLA and its superstar Lew Alcindor (soon to be Kareem Adbul Jabbar and a Los Angeles Lakers Hall of Famer).
The pages flew off the calendar until, in 1998, another Robert Evans update came to me via the national sports story of a dramatic, last-second NCAA tournament upset by Valparaiso over Ole Miss. Robert was then head coach at Ole Miss, the first black head coach in that deep-South school's history and the architect of that team's hoops revival. And, in 1999, when I was on a brief assignment in Phoenix, I heard that Robert had just taken the head coaching job at Arizona State. I asked an acquaintance at the school to pass on my good wishes, though I'm not sure he ever did.
Anyway, now it's good to read the headline in that North Texas State student paper: "Half a century in the making, Rob Evans continues touching lives…."
Touched mine, way back when.