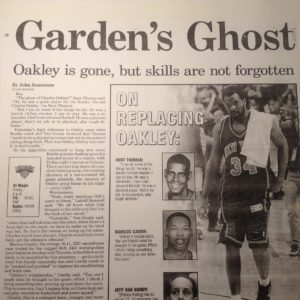 The first time the New York Knicks exiled Charles Oakley from Madison Square Garden, it was done with a large measure of regret. That was after the 1997-98 NBA season, when the wildly popular and ruggedly efficient Oakley was traded to Toronto for a younger, more athletic Marcus Camby. The situation was nothing like this week's banishment, ordered by autocratic owner James Dolan after Oakley's altercation with some Garden security personnel and Dolan's unsubstantiated allegation that Oakley "may have a problem with alcohol; we don't know."
Then again, in both cases, Oakley lingers as something of a specter, a haunting image of haywire happenings weighing on Gotham's basketball franchise. To see Oakley, at 53, escorted from his courtside seat in handcuffs provided the metaphor of shackled competence, while the Knicks bumble toward their fourth consecutive non-playoff season. During Oakley's 10-year stay in New York, the Knicks never failed to reach the post season.
And that's why, a couple of decades ago, the Oakley apparition was hanging over the Knicks' preparation for their first season without him. It already was a bizarre time, with the league emerging from a three-and-a-half-month labor dispute. The 1998-99 season didn't commence until February of '99, shrunk from 82 to 50 regular-season games.
It so happened that 1999 was my one turn as an NBA beat writer (because Newsday was desperate after failing to replace Judy Battista, who had gone on to bigger things at the New York Times). So I stepped into the roiling Knicks narrative, in which general manager Ernie Grunfeld already was catching grief for trading fan favorites John Starks and Oakley.
That Starks was exchanged for Golden State's Latrell Sprewell, who had been suspended most of the previous season for having put his coach, P.J. Carlesimo, in a chokehold, was unsettling enough on the behavioral level. But it was the loss of Oakley for the unproven Camby that created the greater angst in pure basketball terms.
Throughout the abbreviated two-week pre-season training camp, and right into the season, Knicks players spoke of "the ghost of Charles Oakley." Sprewell was among those who acknowledged that head coach Jeff Van Gundy "mentions Oak's name at times. We all know what Oak brought to the table."
Van Gundy wasn't about to deny that. "When the ball's driven into the paint," he said, "when there's a loose ball on the court, we have to make up for what was lost. So that's the reason we bring up [Oakley's] name. Charles would take charges. Charles would take loose balls, get the offensive rebound.
"As a coach, you start right away [to get over such a loss]. But, as a person, a little bit of me left when Charles left, just as a little bit of me left with John Starks.  Personally, it is very difficult for me to say goodbye to those two guys because of what they did for me and my career for all the time there were here."
Camby, whom Van Gundy said "needed to be pushed and prodded" to approximate Oakley's work rate, defended himself by praising Oakley while arguing that "I bring something else, moving up and down the court." Van Gundy was moved to predict that center Patrick Ewing would have to compensate for Oakley's bullying, hulking spirit by having "a career rebounding year."
As it turned out, and this somehow magnifies the greater dysfunction surrounding the Knicks' recent expulsion of Oakley, the '99 Knicks persevered to the championship finals in that microwaved season. They were 21-21 with eight games to play, whereupon Grunfeld was fired, but somehow found last-minute magic in spite of crucial injuries. Sprewell became a model teammate, Camby developed into something of a star and Van Gundy combined a touch for exploiting matchups with an ability to convince all the players to buy into his system.
During the rousing playoff run—the Knicks' last trip to the finals—there was what could now be interpreted as a spooky glimpse of things to come. Then-Garden president David Checketts denied rumors, then admitted, that he was angling to replace Van Gundy with a marquee name. Phil Jackson.
Eighteen years later: Jackson is in his third year as James Dolan's personal choice to be team president. The Knicks are in the midst of another lost season. And Charles Oakley's ghost has come back to torment the Knicks' house.