Bruce Jenner happens to be among the countless souls with whom I crossed paths in almost a half-century as a sports journalist. It was just a glancing blow, and I can't say I kept up with his various transformations, professionally or personally, following his star turn as decathlon champion in the 1976 Montreal Olympics. But the current supermarket-tabloid squawk about Jenner "transitioning" into becoming a woman certainly is far removed from his original act as a public figure.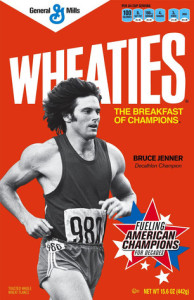 Or not. During a long conversation at the '76 U.S. Olympic track and field trials in Eugene, Ore., Jenner already was envisioning his moment in the Olympic Klieg lights as an audition for a career in the alternate universe of acting. He had just rewritten his own world record in the 10-event decathlon, and called the experience "everything I've ever wanted in athletics, all right there. So challenging, so much involved." Yet, a month later, as soon as he had sewed up his gold-medal victory, he walked out of the stadium in Montreal without even taking his pole-vault poles with him, because he never intended to compete again.
He was moving on. He had been a phys ed major at tiny Graceland College in Lamoni, Iowa—"The way I went through college was to just be a jock," he said. "That's all I cared about." Yet he added that, if offered a college do-over, he would have studied business.
He said he originally thought of himself as a football player—"a young gladiator, you know"—able to turn a debut blunder as the Graceland quarterback into a heroic play. "The first pass I threw was intercepted," he said, "and when I tackled the guy who caught it and knocked him about three rows into the stands, they made me a defensive back."
That lasted only three weeks, when his attempt to block a punt resulted in a knee operation. No worries; Jenner recounted how he could do anything in sports that he put his mind to. "I was Eastern U.S. water-skiing champion three times [in high school], high school state champion in the pole vault and high jump. Played basketball, too."
His athletic prowess was such that the NBA's Kings—then based in Kansas City—used a late-round pick on Jenner in the 1977 draft. (He never took up the sport professionally, though he did make a basket in a YMCA skit during the 1980 film, "Can't Stop the Music," a pseudo biography of disco's Village People.)
The son of a tree surgeon in Sandy Hook, Conn., Jenner was unknown beyond the track community when he squeaked onto the 1972 Olympic team as a college junior, and even when he first set the world decathlon record in 1975. To train for the '76 Olympics, when he was 26, he took a six-month leave from his job as an insurance salesman, during which time he was supported by his wife of three years, an airline flight attendant.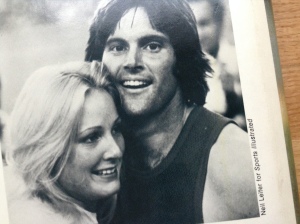 "My wife and I are in this together," he said then. "We decided a couple of years ago that we both wanted that gold medal." Within five years, they were divorced, and Jenner married the second of three times.
It is something of a paradox that the decathlon—an endeavor typically devoid of spectators and often lightly attended even during the maximum-visibility Olympics—could serve as a springboard to celebrity. But there was, long before Jenner, a U.S. Olympic-star-to-Hollywood-headliner precedent: Swimming champs Johnny Weissmuller (1924 and '28) and Buster Crabbe (1932) and decathlete Glenn Morris (1936) all wound up playing Tarzan on the silver screen—in an era when Tarzan movies were a big deal. Two-time Olympic decathlon champion Bob Mathias (1948 and '52) also took a turn as an actor—once playing his decathlete self—before becoming a Congressman.
Plus, of course, there was the Jim Thorpe history, which has caused holders of the Olympic decathlon title to assume the shopworn label of "World's Greatest Athlete." (The story was that Thorpe, upon winning at the 1912 Stockholm Games, was complimented by King Gustav V of Sweden thusly: "Sir, you are the greatest athlete in the world." Thorpe is said to have answered, "Thanks, King," and days later was honored with a ticker-tape parade in New York City.)
Decathlon champs, in truth, are closer to being the world's most obsessed—rather than world's greatest—athletes, given the need to train for a competition over two days consisting of the 100-meter dash, long jump, shot put, high jump, 400-meter run, 110-meter high hurdles, discus, pole vault, javelin and 1500-meter run. During his run-up to the '76 Olympics, Jenner kept various implements for competition—shot puts, discuses, javelins, vaulting poles—scatted around his California home, and admitted to sometimes going through the motions of discus or javelin tosses while standing in crowded stores.
All the while, too, he was working hard at putting his name out there, with public appearances and motivational speeches. Reality TV didn't exist then. But now, for somebody who keeps moving on…..