So we almost had a fellow Mizzou grad as vice president of the United States—a fellow former Mizzou journalism student at that.
That Tim Kaine is now going back to being a senator from Virginia hardly is the worst news about Tuesday's election. At least I can distract myself from the frightening American vision whipped up by the President-elect's racist, misogynistic and mendacious campaign rhetoric to know that Kaine's documented decency reflects well on the old alma mater.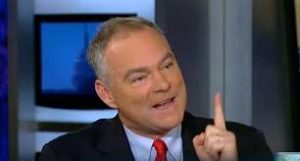 At this point, I'll just cling to my personal identity politics. I'll hang on to the idea that a man who was so close to being one heartbeat away from the Oval Office spent his college days much the way I did.
Except, of course, that Kaine graduated summa cum laude in three years. And was a senator in the Missouri Students Association. And was so far ahead of his fellow students that he worked as a teaching assistant in an economics course.
I got a C in economics. I confess to have spent much more time—much more—in the offices of the student newspaper, The Maneater, than in the library during my University of Missouri days. While Kaine, in his concession remarks on Wednesday, could retrieve a quote from William Faulkner's Absalom, Absalom! that applied to the situation—"They kilt us but they ain't whupped us yit"—I concede that I never finished Faulkner's The Bear for a freshman English assignment. I was too busy reading the sports section.
Kaine came to Columbia, Mo., almost a decade after I left, and went on to far bigger things, opting out of journalism studies to earn his degree in economics, and then to law school at Harvard, to mayor of Richmond, governor of Virginia, U.S. Senator. I remained an ink-stained wretch for a half century.
But a sociology professor once discussed with me the concept of tribalism, how we all need—all like—to identify with some group that reflects our values or, at least, reflects how we prefer to think of ourselves. The college link is part of that. Wherever we go to school, we are connected to that place and—by extension, its people—for the rest of our lives. And when we hear of a successful, principled fellow alum, it's tempting to lay claim to being part of that.
Look at what my school turned out: A man whose life experiences allowed him to empathize with people from other cultures and circumstances. At 22, Kaine worked with the deeply poor in Honduras for nine months. In Richmond, he worshiped at a black church for decades. When The Maneater recently published a profile of Kaine—"How MU shaped vice-presidential nominee and graduate Tim Kaine"—it was just good journalism. But, too, there rightly was pride in recalling Kaine as one of Mizzou's own.
Of course there have been knuckleheads among our alums. Kenneth Lay, the Enron CEO found guilty for the securities fraud that destroyed the company and cost 20,000 employees their jobs, was a Mizzou grad. But, then, so were some highly regarded folks. George C. Scott (originally a journalism major!), long-time PBS News Hour anchor Jim Lehrer, Missouri senator Claire McCaskill, Missouri governor Jay Nixon, singer/songwriter Sheryl Crow, and so many respected journalism colleagues over the years that I couldn't name them all.
It's a stretch that Mizzou's tiger mascot is named "Truman" in honor of the 33rd President of the United States, a form of tribalism which ignores the fact that Harry S Truman, while he indeed was a Missouri native, never attended the university and, in fact, is the most recent President who didn't have a college degree.
But at a time when there is so much enmity swirling around the election results, I am ready to flaunt an association—however tenuous—with Mizzou grad Tim Kaine. In that Maneater piece, there was a college buddy's recollection of how he and Kaine formed a club called SIMA (the French word for "friends"—amis—backwards) that consisted of selling friend-o-grams for 25 cents. Those simply were a means of expressing friendship to other students, which Kaine and his pal hand-delivered around campus.
What a lovely gesture. Sounds something like wanting to teach the world to sing in perfect harmony. In the end, my preference for Kaine's presence in the next administration really had nothing to do with the fact we went to the same school. But I certainly don't mind the coincidence.