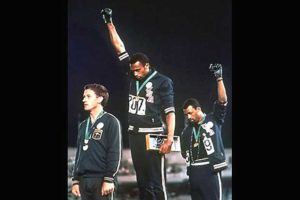 Long before Colin Kaepernick, there was the Tommie Smith-John Carlos incident. Complete with the same horrified amazement—or amazed horror—over the appropriateness of the gesture. The same rotten-tomato treatment of the medium that mostly blotted out the message.
"We didn't carry guns," Smith reminded during a rare reunion with Carlos in 2004, 36 years after the fact. "We didn't beat anybody up. It was a prayer of solidarity, a cry of freedom. But it was an agonizing hurt for America, because everybody saw it. The whole world saw it."
What Smith and Carlos did in 1968 was use the stage of the Mexico City Olympics—specifically, the victory podium during the playing of the "Star Spangled Banner" after Smith won the 200-meter gold medal and Carlos the bronze—as a call for social awareness and plea for the disenfranchised. Head down, each silently raised a black-gloved fist.
"It was basically an act of love," Carlos said at the same low-key 2004 appearance with Smith during the U.S. Olympic track and field trials in Sacramento. "Tough love, but love." He compared it to disciplining a child to keep him from "putting his hand in a socket. We spanked America on the fanny and said, 'Don't put your hand in that socket.'"
In '68, some American cities literally were in flames over civil rights unrest, the Vietnam war was raging months after both Martin Luther King and Robert Kennedy had been assassinated. At San Jose State University, where Smith and Carlos were among the stars on the so-called "Speed City" team, sociology professor Harry Edwards had attempted (but failed) to organize a black boycott of the Mexico City Games.
At the last minute, after setting a world record in the 200, Smith decided to raise a his gloved right hand during the playing of the anthem. He gave his left-hand glove to Carlos with an invitation to follow his lead.
As with this year's Kaepernick protest, in which the San Francisco 49ers quarterback has been joined by other athletes kneeling during the pre-game anthem to focus attention on police treatment of minorities, the immediate reaction to Smith and Carlos was one of wide condemnation for shattering protocol, for showing disrespect.
The veteran sportscaster Brent Musburger, then a Chicago newspaper columnist who represented the clubby establishment thinking, railed that Smith and Carlos were "black-skinned storm troopers." International Olympic Committee president Avery Brundage, an American, and U.S. Olympic Committee officials were outraged, ordering Smith and Carlos out of the athletes' village and suspending them from further competition.
Hate mail and death threats followed. Smith never ran another competitive race, and it was decades before more thoughtful and nuanced perceptions of the Smith-Carlos action began to take hold.
In his 1993 memoire "Days of Grace," tennis champion and activist Arthur Ashe wrote that Smith and Carlos had turned the Mexico City victory stand "into a sacrificial altar as they surrendered their victory to the greater good of downtrodden black people."
In 1999, HBO aired a documentary, "Fists of Freedom," in which Smith recounted how he was "scared. I was scared. My father said to me when I got home, 'Boy'—he's the only one allowed to call me 'boy'—'I don't know what all this hooprah'—as he called it—'comes from. But you're my son, and it must be good because I raised you to do the right thing.'"
In 2005, a 23-foot sculpture of that Smith-Carlos Olympic moment was erected at the heart of the San Jose State campus. (The statue left empty the place on the victory podium that had been occupied by white Australian Peter Norman—who subtly joined the two Americans' protest by wearing the same Olympic Project for Human Rights button as Smith and Carlos—so that visitors can pose with a raised fist on the silver-medal step.)
In August, Smith, now 72, and Carlos, 71, were among the old "Speed City" athletes invited to the school's announcement that it was reviving the storied track and field program they had brought to worldwide prominence. (San Jose State had discontinued track in 1988 for what it said was financial reasons, though it kept vastly more expensive football.)
Three weeks ago, when members of this summer's U.S. Olympic and Paralympic teams were honored at the White House, Smith and Carlos were invited to serve as the teams' "ambassadors"—finally and officially welcomed back into the USOC family after 48 years as outcasts. "Their powerful silent protest in the 1968 Games was controversial," President Obama said, "but it woke folks up and created greater opportunity for those that followed."
That same week, the Smithsonian's new National Museum of African-American History & Culture opened just yards from the White House—with a bronze statue of the Smith-Carlos victory-stand demonstration at its entry to the sports gallery.
It was at a New York screening of the 2004 HBO documentary, days before the film aired, that Smith offered me an ironic update on the fallout from their 1968 public display. He said his son, 11 years old at the time, had just seen a promo of "Fists of Freedom" and "called me at work. He called on my beeper, actually. I called him back and he said, 'Dad! You're on TV!' He said, "You're famous!'"
Famous. A little like Colin Kaepernick is famous—for choosing a protest setting that even historically progressive Supreme Court justice Ruth Bader Ginsburg has called "dumb," "disrespectful," and "ridiculous;" a circumstance that so many people can't comprehend.
That day at the HBO screening, Smith said, "I'm still trying to explain it. I'll be trying to explain it till the day I die."