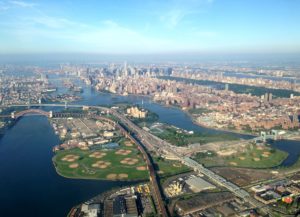 Randalls Island is a small patch of detached land surrounded by three of New York City's five boroughs—Manhattan to the West, The Bronx to the North and Queens to the East. An estimated 340,000 vehicles pass through Randalls every day, on the series of three bridges collectively known as the Triborough, slowing only to pay the toll.
Under the central portion of the Triborough, there is a small stadium—a virtual secret in The Big Town that boasts such sports palaces as Yankee Stadium and Madison Square Garden. To have had Usain Bolt paint his first sprint masterpiece there, on May 31, 2008, was the ideal metaphor for how momentous track and field performances—and superstars—can come out of nowhere.
That night, Bolt, then 21 years old and still a self-proclaimed 200-meter specialist barely known outside his native Jamaica, struck down the world record in the classic 100-meter dash, in 9.72 seconds. He soundly defeated Tyson Gay, then the reigning world champion, in a shockingly quick flash of brilliance that fell somewhere between surreal and incongruous.
Of course, a rousing electrical storm had delayed that record run two hours past its scheduled start. Naturally, people already were calling young Usain "Lightening Bolt." And everyone there was forced to rethink the cliché about lightning never striking the same place twice.
In fact, the same remote development had happened in the same highly improbable location twice before that. In 1961, during the U.S. national championships on Randalls Island, Villanova University's Frank Budd set a world record (9.2 seconds in the old hand-timed days) at 100 yards, which was then more commonly contested than the slightly longer (by roughly nine yards) 100 meters.
Then, when the national championship meet returned to Randalls Island in 1991, Leroy Burrell—who had been something of an understudy to track poster boy Carl Lewis—edged Lewis with a world 100-meter record. That day, Burrell and Lewis showed up wearing tuxedo warmups. Dressed to the nines, one could say. And produced times of 9.90 and 9.93.
Both the Budd and Burrell world bests, 30 years apart, were rendered in an increasingly decaying Downing Stadium, which had 22,000 seats but needed only a tenth of them for the Burrell race. Downing Stadium had been around since 1936, when, on its opening night, a fellow named Jesse Owens won the 100-meter race in that summer's U.S. Olympic trials, sending Owens on his way to winning four gold medals at the Berlin Olympics—widely considered a rebuke of Nazi propaganda that blacks were inferior.
Dilapidated Downing Stadium was razed and a much smaller, much improved 4,500-seat Icahn Stadium—with track and field dimensions built to Olympic standards—was opened 13 years before Bolt arrived on the Randalls Island scene. At Icahn or May 31, 2008, Bolt was only months into his pursuit of the 100-meter event, which was kind of a second language to Bolt's born-to distance of 200 meters. And was being attempted only, he said, because "I don't want to run the 400 meters and I need another race."
At 6-foot-5, he wasn't convinced the shorter race gave him time to unfurl all his levers. But that night he was motivated, he said, by "fear of this man"—pointing respectfully to Gay—and boosted by a standing-room-only crowd of 6,500, thousands of them from New York's track-passionate Jamaican community, waving Jamaican flags and decked out in green-and-yellow national colors. So predictable was the Jamaican ex-pat interest in the sport that meet organizers provided a post-event concert of pulsing reggae and ska music, while Bolt expressed to a small gathering of journalists that he was pleased with his result, "but it was only one race."
Ten weeks later, Bolt, on the express train to worldwide fame, re-wrote his 100 record at 9.69 on the big stage of the Beijing Olympics, added a 19.30 world record in the 200 and introduced his archer's-pose exultation, which reportedly came from a Jamaican dancehall move at the time.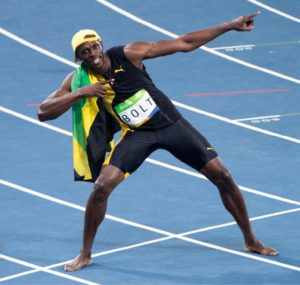 The shooting-arrow gesture remains a central feature in his act, now that he became the first athlete ever to win the 100 in three consecutive Olympics this week. Which calls to mind the Henry Wadsworth Longfellow lines…
    I shot an arrow into the air,
    It fell to earth, I knew not where;
    For, so swiftly it flew, the sight
    Could not follow it in its flight.
Or maybe it just conjures the Jimmy Buffett verse in "The Rocket That Grandpa Rode"….
    Sounds like bragging, but it's true.
    I'm not tryin' to big-time you.
Not that world-class sprinters tend to be excessively humble about their gift. Especially since the psyche game plays such a prominent role in their endeavor. Among the former world-record holders in the 100 meters, Maurice Greene (1999-2005) was one of the least subtle, flaunting a G.O.A.T. tattoo—"Greatest of All Time." (Greene never won an Olympic 100.)
Years before, Charlie Greene (no relation) would race wearing dark glasses, even at night, calling them his "re-entry shields," and John Carlos would express his hope to fellow competitors that they had "brought your asbestos suits, 'cause you're going to burn up."
Steve Williams, who briefly shared the world record in the 1970s, described "all the cruising, looking over your shoulder, easing up in the heats" as "enjoying being the king holding court." Carl Lewis' pre-race ploy, rather than the typical heavy breathing or the stare-down of rivals entering the blocks, was to unnerve opponents by offering a handshake.
Generally, though, Lewis' demeanor was that of a man so assured of greatness that he mostly kept himself apart from the rest of humankind. After he won the second of four gold medals at the 1984 Los Angeles Olympics, he was so north of aloof that he spoke only into a microphone that was borne by appointed messenger to the press tent. The tape recorder was set on a table in front of a bank of microphones and played.
Talk about big-timing us. One newspaperman slyly reported Lewis' post-event statement this way: "It said, 'This is one of the most difficult competitions I have been in….'"
Not: "He said…." "It said…."
Still, we tend to love these swaggering gunslingers given to frowning, posturing, huffing and puffing, because of what they can provide: The sudden, unexpected shock of thrilling, unprecedented speed. As if out of nowhere.
Or just Randalls Island.