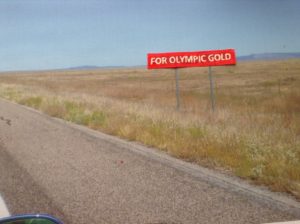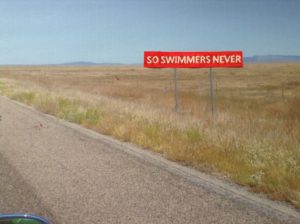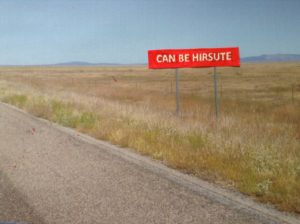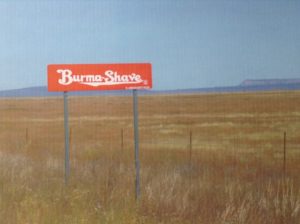 Children of the Fifties would recognize the medium: A series of five or six roadside signs, spaced for sequential reading by passing motorists, rhymed and with a punch line before concluding with a plug for the sponsor, which was a brand of brushless shaving cream.
(Example: Drinking Drivers. Nothing Worse. They Put the Quart. Before the Hearse. Burma-Shave.)
The company, Burma-Shave, was sold in 1963 and its iconic red signs—which had been spread throughout the contiguous United States—disappeared. But let's get to the message, which dates to 1956 and remains an Olympic staple: Elite swimmers, seeking every little edge that might allow them to win by a hair, shave their entire bodies.
(So I made up that Burma-Shave verse at the top to fit the occasion.)
Legs. Arms. Backs. Armpits. Chests (the men, that is). Sometimes heads.
It's a ritual. A psyche job. It's a beginning, swimmers' own personal Olympic opening ceremony, traditional and formal, like cutting a ribbon or breaking a bottle of champagne over a ship's bow. Along with tapering down their training mileage anywhere from two to five weeks before their most important meets, these barbers of aquatic skill scrape off every last bit of bristle, down and fuzz.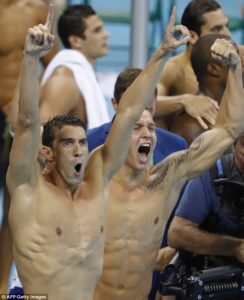 According to the Indiana University's Counsilman Center for the Science of Swimming, "the effect of shaving on swim performance is not well understood….mostly anecdotal in nature and includes physical, psychological and neurophysiological factors."
But the center's namesake, the late Hall of Fame swimming coach Doc Counsilman, acknowledged in 1968 that "shaving the hair from the arms and legs may increase the swimmer's sensitivity to the 'feel' or pressure of the water and, consequently, improve his coordination."
The story is that an Australian freestyler named Jon Konrads first took a razor to his whole body before a 1956 meet and, according to American John Naber, who won four golds at the 1976 Montreal Olympics, "was the laughingstock of his whole team." Except Konrads proceeded to cut a full two seconds off his best time and, by the end of that season, at the Melbourne Olympics, all of the Australian swimmers were shaving. (Konrads set 26 world records in his career and won a gold medal at the 1960 Rome Olympics.)
Years ago, Naber explained shaving's benefits to me this way: "Steve Martin used to say that he put a slice of baloney in his shoes before he performed to help him feel funny. Well, shaving helps you feel fast. It is an essential ingredient in a swimmer's state of preparedness."
Many Olympic swimmers have said they first shaved before they were teenagers, even if they hadn't yet grown any hair on their bodies, because everyone else was doing it. Chrissy Ahmann-Leighton, before she won two relay golds and an individual silver at the 1992 Barcelona Games, told me she first shaved when she was 8. "We had a big party on the pool deck and everybody shaved," she said. "Then, you're a part of the team."
The first time shaving, Naber said, "is like getting the first dent in your brand-new automobile."
The swimmers use barber clippers, safety razors and straight razors. They get teammates or wives or girlfriends to shave their backs. (Although, Naber said, "you never shave somebody in your same event.")
There are limits to this almost endless quest for aerodynamics. B.J. Bedford, a member of the U.S. women's gold-medal relay team at the 2000 Sydney Games, had shaved her head before the previous Olympic trials but swore never to do it again. "My head," the then-blonde Bedford said, "looked like a dirty tennis ball when my hair started growing out."
To avoid that problem, virtually every top swimmer wears a cap.
Swimmers have related that the shaved sensation "makes the water feel like soap," that it resembles "a dolphin and how slippery they are in the water." Three-time 1984 gold medalist Rick Carey's response to my research on this matter was, "You're asking me to describe what a tomato tastes like and all I can say is, it tastes like a tomato."
Just as significant as taking off all their hair, many swimmers believe, is shaving's removal of a layer of dead skin, moving up the level of sensitivity. Rowdy Gaines, the triple gold medalist at the 1984 Los Angeles Games who is doing NBC-TV commentary in Rio de Janeiro this month, called the shaving routine "real mental. But, then, it's real physical, too. I don't know how to describe it. The feeling is like a greased watermelon. You feel silky. It's tingly. It's cold."
So….
(Lather up. Take the plunge. Soak up victory. Like a sponge. Burma-Shave.)