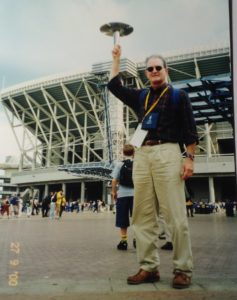 Get ready for some alternative reality. A dose of international brotherhood. A recess (however brief) from cynicism. The biennial Olympic opening ceremonies are upon us.
Brace yourself for a show that walks the line between delusions of grandeur and a welcome security blanket for our imperfect world, between navel gazing and a sincere optimism. Unlike Everyman, every day, who just shaves and showers and gets on with business, the Olympics confronts its figurative dawn by grandstanding for peace, by preaching and praying and prophesizing. (While never neglecting to feed the television-ratings beast.)
Of the 11 Olympic opening ceremonies I covered for Newsday, none disappointed. Though unavoidably political and nationalistic—all that flag-waving!—none of them failed to be, in some way, an uplifting glimpse into a better human condition. Almost subliminally, the ceremonies manage to promote a faint understanding of Others, parading the host nation's culture and history.
In Nagano, Japan in 1998, there were ringing Buddhist temple bells and enormous sumo wrestlers symbolically stomping out evil spirits. In Sydney, Australia in 2000, there was a bow to Aboriginal roots and a goofy "lawnmower ballet." In Lillehammer, Norway in 1994, there were reindeer pulling sleds and so-called folk skiers, zig-zagging down a ski slope playing fiddles. In Athens, Greece in 2004, there were figures of gods and legends brought to life off Grecian urns and sarcophagi—and the reminder that Nike was a goddess, not a shoe. In Turin, Italy in 2006, the ceremonies concluded when the fat man sang: Luciano Pavarotti's performance of his famous "nessun dorma" aria. In Los Angeles in 1984, there was a Hollywood production of singers, dancers, piano players and a Buck Rogers character flying into the stadium on a one-man jet pack. In Atlanta in 1996, there were pickup trucks.
"Sport," then-International Olympic Committee president Juan Antonio Samaranch declared during the Sydney ceremonies, "is an essential part of education, which is the real wealth of any country in the world."
Part of the ceremonies' formula can feel a bit overdone, self-important and quasi-religious: The Olympic hymn, raising of the five-ring Olympic flag, recitation of the Olympic oath. Plus, there is lurking under the feel-good vibe an undeniable influence of American television executives, far more interested in viewership than global tolerance.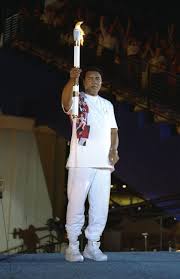 For the Atlanta Games, the dramatic, ghost-like appearance of Parkinson's-challenged Muhammad Ali to light the Olympic cauldron was the creation of NBC Sports president Dick Ebersol. Celebrated sports journalist Dave Kindred, in his 2006 book, "Sound and Fury," described how Ebersol, using the clout of NBC's multi-billion dollar rights fees paid to Atlanta's organizers, overcame Atlanta chairman Billy Payne's aversion to what Payne called Ali's "draft dodger" history during the Vietnam War.
If NBC had its way, in  fact, this week's Rio de Janeiro opening ceremonies would override the traditional order of national teams' entrance into the stadium—done alphabetically in the language of the host nation—so that the United States contingent entered near the back end of the program to retain U.S. viewership. (In Portuguese, the United States is "Estados Unidos," so the Yanks will show up early in the parade.)
All in all, though, the truly universal ceremonies provide marvelous bits—the last-second surprise of who will light the Olympic cauldron and the increasing technological wizardly of firing up that big candle—one more element that renders Super Bowl halftime shows, in comparison, merely elaborate concerts.
In Barcelona in 1992, a Spanish archer named Antonio Rebollo shot a flame-tipped arrow 100 feet in the air, sailing it directly above the cauldron to ignite the fire. In Lillehammer, a Norwegian student barreled down a ski jump with the torch in hand. In Sydney, as water cascaded down the end-zone stands, Aboriginal track champion Cathy Freeman waded into a pool at the base of the waterfall and lit a ring of fire around her that ascended slowly up the rim of the stadium.
Great stuff.
It is easy to argue that the ceremonies—like the whole Olympic package—are Pollyanna fluff. The ceremonies' nod to the ancient Olympic Truce, for instance, calling for the revival of the 8th Century B.C. tradition of ceasing wars to guarantee participants and spectators safe passage to and from the Games, is powerless. During the Lillehammer Games, as civil war raged in the 1984 Olympic host city of Sarajevo, Samaranch pleaded, "Please, stop fighting. Please, stop killing. Drop your guns, please." Two years later in Atlanta, amid endless sabre-ratting of various governments, Samaranch acknowledged, "Our only weapon is sport."
But I can handle a little naivete. Shortly before he assumed the IOC presidency (2001 to 2013), Belgian physician Jacques Rogge told a handful of us Olympic reporters, "We make no pretentions to broker peace. We're just a symbol; it's up to the politicians."
During the 2004 opening ceremonies in Athens, Rogge elaborated on that symbolism. "We need peace," he told the crowd. "We need tolerance. We need brotherhood. Athletes….show us that sport unites by overriding national, political, religious and language barriers."
So, again: Might as well give it a try.