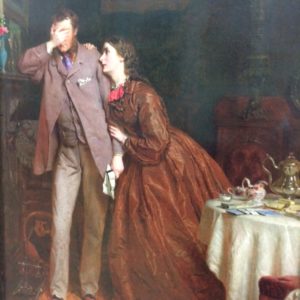 Dateline LONDON.
Now does not appear to be England's finest hour. Apart from the obvious—the so-called Brexit vote to pull Great Britain out of the European Union, rattling the world's financial markets and unleashing political chaos within the United Kingdom—there is the matter of football. (Soccer, to us Colonists.)
England is the Motherland of Soccer, the sport's original superpower, and Monday's staggering upset loss in the European Championships to historically insignificant Iceland has contributed to a sense of England's fading global influence. The 2-1 loss to Iceland, just days after filing for divorce from the E.U., loosed a soul-searching anguish in a nation so long convinced, as Shakespeare wrote, that it was "the envy of less happier lands."
"Less happy" would be an understatement for England's general mood right now. Prime Minister David Cameron is resigning, his opposition party has declared an overwhelming lack of confidence in its own leader, European bigwigs are taking a good-riddance stance on the Brexit vote….and the soccer loss is being cast as a "disgrace" and "pathetic failure." "Stiff upper lip" does not appear to apply.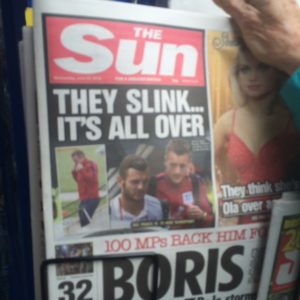 It happened that I arrived here for a brief holiday just in time to read the supremely self-assured pre-match analyses of the Iceland duel, with English fans—and especially English bettors—certain there was "no way," an one pundit put it, "that a major footballing force like England should be losing to a country you could make disappear with a hairdryer in about four hours."
Normally, I could work up a reasonable passion for England's endeavors. This is a polite, civilized nation of diversity and gumption, the land of Churchill, the home of the Beatles, the team of David Beckham. But  Iceland's rollicking advance into the Championships' knockout round, against all odds—coinciding with My Fellow Americans' semifinal loss in Copa America—had moved me to declare a week ago that Iceland is my new favorite team.
When the big game arrived Monday evening, we were strolling through Leicester Square in search of theatre tickets, while pubs overflowed with fans straining for a glimpse of TV sets inside. That included a pair of policemen, who informed my wife—not too long after kickoff—that Iceland had a one-goal lead.
Iceland! The tiny Nordic island with more volcanoes than professional soccer players! The smallest nation ever to qualify for a major soccer tournament! My new favorite team!
For the last 20 minutes of action, my daughter and I strained for a glimpse over jostling patrons, beers in hand, on the fringes of Philomena's Irish Sports Bar and Kitchen in the Holborn district. The end left muttering fans dispersing into the night, and the next morning's papers raged at the players' bewildering lack of offensive pressure and English goalie Joe Hart's "huge blunders" after he had gotten only his fingers on the decisive goal.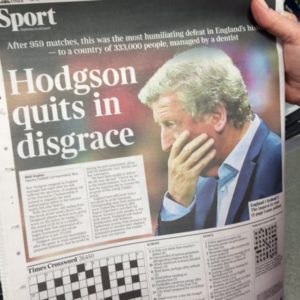 English manager Roy Hodgson immediately fell on his sword, quitting in shame even faster than David Cameron had over the Brexit vote. There was much angst over England's training deficiencies and the poor investments of the national soccer federation. "English coaching is rotten to the core," one headline declared.
Even some of the art at the Tate Britain gallery seemed to address England's current misery. But, too, this is the home of Monty Python, and The Times of London showed the good humor to run a large feature headlined, "So we all want to be Icelandic now, ja?" Because, the piece pointed out (among other things):
—The men are beefcakes (citing "Game of Thrones" bad guy Gregor Clegane, who is played by Icelander Hafthor Bjornsson)…
—They have magnificent beards…
—Iceland is the third happiest country in the world, according to a U.N. survey (behind Switzerland and Denmark. (Take that, Bill Shakespeare.)
—Plus, the Times writer added, "Did I mention they're good at football?"
Ja, and that's my new favorite team. But I'm not worried about England. Churchill said, "If you are going through hell, keep going."