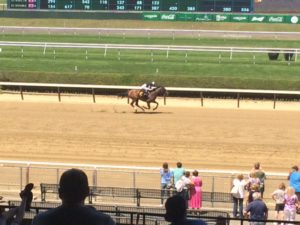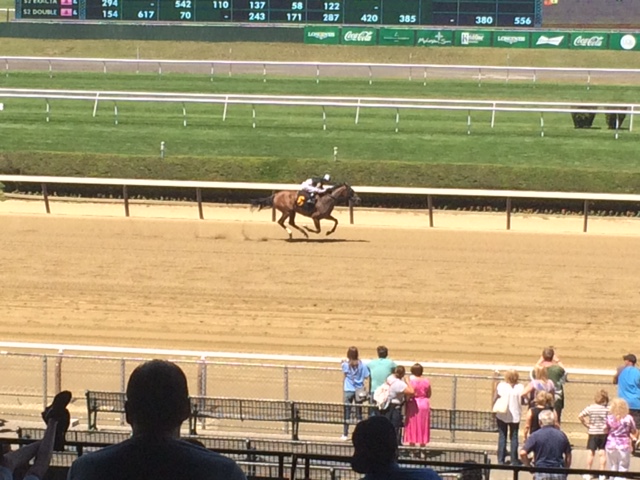 There is an old horseplayer joke that goes something like this: I bet on a horse at 10-to-one. He didn't come in until quarter past two.
I was reminded of this—and other wagering wisdom imparted over the years—during a recent day at the races. "You take a dart," one veteran patron of the betting windows once counseled, "and you throw it at the board."
You blindfold yourself and try to pin the tail on the donkey.
But who doesn't like a challenge? About once every year or two, my friend Tony and I venture to lovely Belmont Park—the green, almost rustic arboretum covering 430 acres on the edge of New York City—for an afternoon of idle chatter and the dare of channeling Nostradamus, with the full understanding that we are unlikely to become hundredaires. At best.
There is no point in affecting a hard-bitten railbird's disguise by, say, not shaving and purchasing a big cigar. Or buying a Daily Racing Form to pore over the lineage of the steeds and the successes of various trainers and jockeys. None of that will help.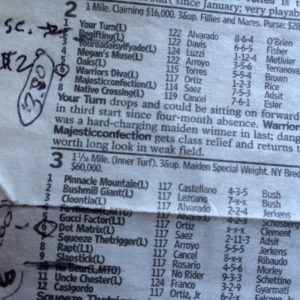 Over the course of six races last week, the only four-leaf clover I found was a nag named Warriors Diva, who paid a measly $3.80 on a $2 bet. One other choice, Dot Matrix, finished second. (The official race chart said that Dot Matrix "stalked the winner from the two path and proved no match.") Another, Mean Season, came in third.
At least those "almosts" were better than One Nice Pal, who finished 10th in a 12-horse field. (Official chart: "Chased the pace along the inside, forwardly placed under encouragement from three furlongs out, swung just off the inside for home. Folded.") Among my other $2-to-win bets, Kettles On was fourth, Graceful Gal sixth, Singsong ninth. (Singsong also "folded").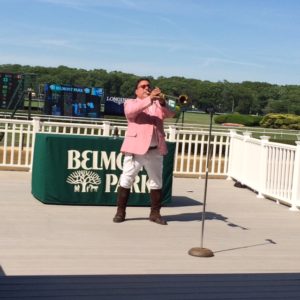 In fact, even before the racetrack bugler had played his little "Assembly" ditty for the first time, calling the horses to the post, Tony lost $3 on Preferred Parking and I parted with $3 on General Admission.
On one of my occasional thoroughbred racing assignments for Newsday over the years, a Belmont regular recited to me the gambler's prayer: "Dear God, let me break even. I need the money." He also recommended that the first question to put to a handicapper is, "What kind of car do you drive?"
Another teaching moment, about how the track is not a consequence-free zone, came years ago during an interview for a story about former Giants running back Joe Morrison who, at the time, was in the midst of his NCAA coach-of-the-year season at the University of South Carolina.
Among the musings of Morrison, who was a horse owner and racing fan on the side, was a recollection of his first trip to the track during his playing career. He had been invited to look into some mutuel windows with a service station owner he had befriended, and "the first time I went to the races with him," Morrison said, "he threw his pocket change on the floor of the car just before we got ready to walk into the track. I said, 'What are you doing?' He said, 'We have to make sure we have toll fare home.'"
When I was a mere proverbial knee-high sports journalist, dispatched to help with coverage of the Belmont Stakes, I was appalled to learn that there was a betting window right there in the press box. Naivete is not a sin, but I had assumed that fellow ink-stained wretches were too busy with their unbiased reporting on the races to indulge in an activity that required all-out rooting (quietly, be assured) for a particular result.
It turns out that thoroughbred reporters aspire to be thoroughbred reporters because they are as drawn to those windows as to the sport's characters and story lines. I've come to accept that reality as an innocent enough way of hedging their bets: Get paid to write about the ponies, while engaging in what the Brits and Australians refer to as "punting skills."
Nevertheless. I am only able to rationalize my participation in the gambling aspect of thoroughbred racing by retaining a rank amateur's dread. Handicapper Harvey Pack used to tell neophytes that a horseplayer must be "confident and resilient. " I would suggest "fearful."
My proposal: Instead of having a race-track official on the other side of that window to accept your down payment on the great riches that theoretically will result from your powers of prediction, why not just have a small toilet in there? You put in your money and flush.
All of this is not to say that I can't justify forfeiting around $20—always just $2 bets on eight to 10 races—as the price of entertainment for a day of occasional adrenaline rushes and the fellowship of disappointment.
But I know how my trip would come out in the unique prose of racing charts: The Dilettante started sluggishly, rushed up momentarily, briefly threatened but quickly came under pressure, wandered and fell back steadily. Folded.