Here's the sports analogy for what already is a theatrical, historic Presidential campaign: Billie Jean King as Hillary Clinton, Bobby Riggs as Donald Trump. A woman of substance and accomplishment vs. an attention-craving egotist considered by many folks to be a con artist. A female pioneer against what used to be known as a male chauvinist pig. With bad hair.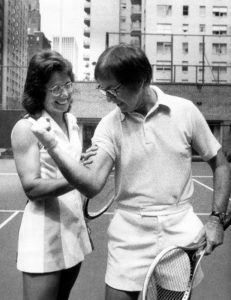 In 1973, King and Riggs played a tennis match, won by King, that was more about the so-called glass ceiling than a racket-and-ball contest. Because it paired the 29-year-old King, at the height of her career as a 12-time major-tournament champion, against a 55-year-old geezer whose last of three major titles was 32 years in the past, physiological comparisons of innate female/male strength and speed hardly applied.
More to the point was King's symbolic intrusion into the Old Boys' Club. In the circus-like buildup to their match, Riggs had been bluntly dismissive of women's role in society as well as women's tennis—at a time when the proposed Equal Rights Amendment to the Constitution had passed both houses of Congress and was awaiting ratification by state legislatures.
So, beyond the promotional excesses of the King-Riggs "Battle of the Sexes," which felt at times like a public leg-pulling exercise, the match in fact became a prominent piece in the real national struggle that was playing out over gender rights. And Riggs had no interest in assuming what the current presumptive Republican Presidential candidate repeatedly disdains as political correctness.
Riggs was a showboating hustler and gambler, reportedly with large debts and ties to the mob. Months before the King showdown, he had challenged Margaret Court—whose 24 major-tournament championships remain more than those won by the likes of Steffi Graf and Serena Williams—and easily defeated her in a best-of-three-sets exhibition.
Against King, then, polls—that, is, the betting odds—overwhelmingly favored the blustering Riggs to repeat his proxy proof of apparent male superiority. The King-Riggs match employed the men's more demanding major-tournament format of best-of-five sets, but King needed only three for her decisive sweep. A triumph of competitive chops over empty braggadocio.
In the following day's New York Times front-page account, Neil Amdur wrote that King "attacked with a professional cool" while Riggs "hit marshmallow shots, some of which went in….Most important perhaps for women everywhere, she convinced skeptics that a female athlete can survive pressure-filled situations and that men are as susceptible to nerves as women."
In Sports Illustrated, Frank Deford wrote that King "has prominently affected the way 50 percent of society thinks and feels about itself…."
There were stories of secretaries marching into offices the next day and demanding raises, or announcing that their coffee-making days were over. King immediately was seen as a unifying leader in the fight for gender equity—far beyond tennis and sports in general—and a fire under the new federal law, Title IX, that prohibited sex discrimination in public schools.
Likely, the pre-match carnival barking (mostly by the hectoring, boastful Riggs) had helped entice more than 30,000 spectators to pay their way into the Houston Astrodome and an estimated 50 million Americans (and 90 million worldwide) to watch on television. Beyond the hyperbole, the happening itself clearly produced a broad significance. (Momentous enough that, 44 years later, there will be a biographical movie based on the match released in 2017.)
"Everybody knew it was a gimmick," Donna Lopiano, one of the most influential figures in women's sports, noted years later. "But, up to that moment, the women's movement had played the fringes, with things like bra-burning. Because that was sports and a woman proved her athleticism, it struck at the heart of male dominance."
King herself said recently, "I hated the term 'Battle of the Sexes.' When I was younger, I'd lose to guys on purpose. But I knew playing Bobby had huge social significance. I knew, athletically, it meant nothing. But to the world it meant everything, because it was on guys' terms. That's why it worked.
"The only attention women get is when we get in their arena."
Four decades later, with his wife in the arena, one William Jefferson Clinton has a front-row seat to the 2016 political analogy that New York Times columnist Maureen Dowd has called "the most stark X vs. Y battle since Billie Jean King and Bobby Riggs."
P.S. When Bill Clinton said, in 2009, that "she has probably done more than anyone in the world to empower women and educate men," he was talking about Billie Jean King.