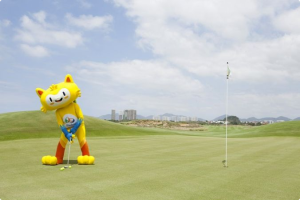 One truth about the Olympics is that it is not all things to all sports. A walk on the moon to competitors in some disciplines, the Olympics is just another road trip for others. Compare the potential payback for great champions in track and field or swimming—fame and fortune for a Usain Bolt or a Michael Phelps—to that in men's soccer: Participating in the World Cup is far more prestigious. Or tennis: All four Grand Slam tournaments are significantly larger stages than the Games.
And now, for the first time since 1904, there will be Olympic golf this summer in Rio de Janeiro. Already several of that sport's most prominent players have announced they will take an Olympic pass, including three ranked in the world's top 20—Australia's Adam Scott and South Africans Louis Oosthuizen and Charl Schwartzel—as well as former No. 1 Vijay Singh of Fiji.
The going explanation for withdrawals is golf's hectic, globetrotting schedule, which is packing three major championships into a six-week span from mid-June to late July—the U.S. Open, British Open and PGA Championships. The Olympic tournament is scheduled in mid-August.
Plus, there is the scarifying Zika virus outbreak in Brazil, specifically the reason cited by Marc Leishman, Australia's No. 3 player and 35th in the world, in removing his name from Olympic consideration this week.
No one has yet declined to compete just because the new Rio course is built next to the Jacarepegua Lagoon. Jacare, in Portuguese, means "alligator," and one of those eponymous reptiles recently was spotted on the links' edge. There are reports that at least five biologists will be employed to move the imposing critters away from players and spectators during the Games. So that sort of water hazard might deserve consideration.
When the International Olympic Committee voted in 2009 to bring back golf, last contested at the 1904 St. Louis Games, it might have weighed the priorities of modern-era pros already fabulously compensated by—and plenty busy with—their structured leagues and organizations.
Olympic basketball, with NBA players eligible since 1992, has worked pretty well because it is contested in the league's off-season. Still, some stars—either of their own volition or leaned on by their full-time employers, as Latvia's Kristaps Porzingis was by the Knicks this month—choose to eschew the Games' potential for injury and fatigue.
Olympic hockey in the Winter Games, in spite of providing splendid TV ratings and magnificent drama since NHL players were welcomed in 1998, nevertheless has no guarantee of continued partnership with league owners. The Olympics interrupts the NHL schedule and, in 2014, ended Islander all-star John Tavares' season because of a knee injury in Sochi.
Baseball, after five Olympic cycles as a full-medal sport during which it stirred little attention, didn't last past the 2008 Games because Olympic panjandrums were frustrated by the complete lack of Major League talent and suspicion of the sport's delayed efforts to fight doping.
Golf? It seemed an all-aboard-the-gravy-train vote for the IOC in 2009, because Tiger Woods was not only the sport's top player then, but also one of the globe's most familiar names, and surely a magnet for more TV and advertising revenue. Especially when Woods declared his eagerness to grace the 2016 Games with his presence and the British bookmaker William Hill immediately established him a 6-1 favorite to win the gold.
Alas, Woods' dominance faded long ago. He hasn't played at all in six months while recovering from back surgery. At this point, he could not come anywhere near qualifying for Rio, which will have fields of 60 men and 60 women, based on the world rankings in mid-July.
NBC's Golf Channel has said it will air 300 hours, 130 of them live, of the Olympic tournament, and Olympic executive producer Jim Bell told Reuters that he believes players who skip the Games will soon regret it. But the reality is that no top pro needs the Olympics to be discovered. Or legitimized. Olympic stars are born in women's gymnastics. Beach volleyball. Diving. Cycling. In the winter, they emerge in skiing and women's figure skating.
So, with golf shaking off the Olympic cobwebs, 112 years since its last appearance, the more intriguing story (aside from the alligator watch), may be the glimpse of evolution—in both that sport and the Games in general.
In 1904, the Olympics was conducted under strict amateur rules. Its golf champion was 46-year-old Canadian George Lyon, who defeated 23-year-old U.S. amateur title-holder Chandler Egan in a match-play final. Lyon hadn't taken up golf until he was 38, though his athletic feats included a Canadian record in the pole vault 10 years earlier and stardom in cricket, baseball and tennis.
The only other Olympic golf competition was in 1900 in Paris, when there were both men's and women's tournaments. American Charles Sands, who also participated in tennis at those Games, won the men's gold. The women's champ was Margaret Abbott, a 22-year-old Chicago socialite who died in 1955 unaware that her victory was part of the Olympic program. Ironic, according to David Wallechinskyi's Complete Book of the Olympics, because Abbott is in the history books as the first U.S. woman ever to win an Olympic gold medal.
In a recent Facebook posting, Rio's venue manager for the golf competition, Bob Condron, noted that "technology has changed a bit" since the sport's previous Olympic adventures. "Hickory shafts have given way to graphite and titanium," he wrote. "Feather-filled balls are now known as Titleist Pro VX and your third-grade nephew could hit one into the Pacific from Colorado. And the way the media works is a tad updated. Carrier pigeons and telegraph has been replaced by methods that get copy to the public faster than the mind works. Photos get to viewers before they happen."
In those days, golfers hit not with clubs numbered 1 through 9, but with brassies, spoons, cleeks, mashies and niblicks.
Condron, I should note, spent years as the most competent—and witty—publicist for the U.S. Olympic Committee, a man who kept me educated and entertained through 11 Olympics. If anyone can elevate golf's place in the pecking order of Olympic sports, Condron can.
But I submit that neither golf, nor the Games, gains (or indeed, needs) embellishment from the other. And it's no surprise to hear some of the sport's boldface names preemptively issuing a "See you later, alligator" declaration.