This is a pet peeve. Why is it that televised coverage of March Madness, which the NCAA insists is amateur sport contested by "student-athletes" motivated purely by devotion to Dear Old Alma Mater, skips the college atmospherics?
Instead of grave, ad nauseam dissection of strategy amid pauses in the action not already taken up with commercials—all that redundant hoops talk-talk-talk—how come we don't get to eavesdrop on the occasional school fight song? Or catch a glimpse of some mascot high jinx?
During an early-round game in Memphis a couple of years ago, TV missed UCLA's Joe Bruin acknowledging the geographic proximity to Graceland by donning dark glasses, scarf and white jump suit and hoofing to Elvis music. Can't help falling in love with that.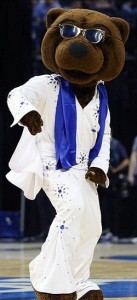 Instead of official canned "CBS College Basketball Theme" music going in and out of advertising breaks at this weekend's Final Four, why not linger briefly on the Oklahoma band pounding out a few bars of "Boomer Sooner"? (The music is a rip-off of Yale's "Boola Boola," but any fight song does a better job of placing the viewer on the scene than generic network tunes.)
What mostly separates the Big Dance from just another NBA production are the pep bands and anthropomorphically costumed wildcats and ducks and shocks of wheat—partners in high times for the schools and their most involved followers, the students and alumni.
Not so long ago, I found an interview of Iowa's Herky the Hawk during a March Madness timeout every bit as stimulating as listening the coaches and players ponder tactics and who's No. 1. Since birds don't talk, Herky's end of the conversation consisted of charades….
Me: How tall are you?
Herky: (Tapping a finger six times into his other palm, pausing, then tapping four times) 6-foot-4.
Me: What year in school?
Herky: (Tapping twice). Sophomore.
Me: Your major?
Herky: (Rubbing his thumb against two fingers). Business.
When lightly regarded Stephen F. Austin shocked West Virginia in this year's first round, then gave Notre Dame a serious scare, the folks on the "electric teevee machine"—as my friend Charlie Pierce calls it—raved about the gritty, unemotional play of SFA senior Thomas Walkup. What never was mentioned was how Walkup, a muscular lad with a wilderness beard, was doppelganger to the school's lumberjack mascot. (Newsday's Laura Albanese noticed, and posted the Tweet below.)
West Virginia, by the way, joins Stephen F. Austin as one of the few colleges whose mascot appears in human form (also bearded) with its Mountaineer. Which is fine, though not as much a conversation piece as St. Joseph's University's student-inside-an-eagle suit, who tirelessly flaps his wings throughout games. Or Syracuse's student-inside-a-giant-orange.
We all know the tournament has no real relationship to higher education. The NCAA's current 14-year March Madness television-rights deal is worth $10.8 billion. A single conference, the ACC, already was guaranteed $30 million based on advancing six teams into this year's Sweet Sixteen. The most successful coaches regularly are the highest-paid employees at their colleges. One of this year's semifinals features two teams—North Carolina vs. Syracuse—shaking off the effects of recent academic fraud.
By stripping away the peripheral ambiance—which, I submit, is a saving grace for an otherwise cynical and hypocritical operation—television's treatment of the event further amplifies the serious-business aspect. At least give me a hint of campus life with the periodic fight song. And a student in a wacky critter suit.