Really accomplished people aren't necessarily nice, but Bud Collins was. In the extreme. He was much too busy—as the Boswell of Tennis, the sport's premier historian and conscience who brightened newspapers, magazines and television—to bother with showing the ropes to young whippersnappers arriving on the beat. But of course he did. Unfailingly and for decades.
Collins, who died Friday at 86, was far too recognizable—bald head, big smile, sweater thrown jauntily over his shoulders, pants with patterns so loud they could speak for themselves—to take any time mixing with the hoi polloi. Yet he always did.
During those brief shuttle-bus rides from parking lot to main gate at the U.S. Open—no VIP treatment for him—Collins would be invited by fans to "enjoy the tennis today."
"What's not to enjoy?" Collins would respond happily. When they asked about his work, he would say, "I haven't worked in—what?—40 years."
He unfailingly saw "good in people" and unabashedly loved tennis, though neither of those realms necessarily guaranteed virtue. His reporting was even-handed, sometimes critical but never mean. Irreverent but lighthearted. With a goodly amount of literacy and puns.
In 1993, with the confluence of the Academy Award nomination for the film "Prince of Tides"—which starred 51-year-old Barbra Steisand—and the news that Streisand was dating 22-year-old tennis star Andre Agassi, whose often novel tennis attire included form-fitting bicycle shorts, Collins playfully dubbed Agassi "The Prince of Tights." Not unkindly, he called Monica Seles, one of the first of the sport's loud grunters, "Moanin' Monica." And tall, gangly, big-hitting Pam Shriver "The Great Whomping Crane." And blonde, defensive-minded Caroline Wozniacki "The Golden Retriever."
He described the sport as "a pitcher of lemonade. Sweet and piquant, altogether tasty. The lemons, freshly picked and squeezed, yield something a little different each time. Delightful. Refreshing. Satisfying. I never tire of the flavor. Pour me another glass, another match."
And the more folks who would join him in that appreciation, the merrier.
My first time to cover Wimbledon was in 1986. That meant two appealing weeks to report from the sport's cathedral, with the added bonus of having my wife and 6-year-old daughter simultaneously experience a London holiday. They took in museums and shows, castles and other tourist attractions, with no thought of witnessing any live tennis, because the lines—sorry, "queues"—for Wimbledon tickets stretched forever outside the tennis grounds every day.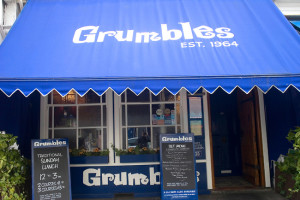 One morning we were having breakfast when Bud dropped into the same restaurant, a place called Grumbles. (Ironic name, that, since Collins never was heard to moan about anything, though he lost a live-in companion and a wife to brain cancer, and had a sister and brother-in-law murdered by a former patient of their drug rehabilitation center.)
Typically, Collins stopped to chat. (All of us were staying at the same nearby apartment complex, Dolphin Square, because it long ago had been recommended to Newsday reporters staffing Wimbledon by one Bud Collins.) Naturally, without us even hinting, he offered to get tennis tickets for my wife and daughter. He did the same a few years later, too—just as he did over the decades for countless others whom he treated like close friends.
"Of course I remember him," my daughter responded to my text that Collins had died. She now lives and works in Shanghai, yet she mentioned that "there is someone else here who also knew him…."
Everyone knew Bud. Everyone owed him something. Often on the Wimbledon nights that I worked past 11:30 p.m., when the Underground shut down at the tournament's Southfields Station and the only option was an expensive taxi ride back to Dolphin Square, Collins—who wrapped up his Boston Globe stories after finishing day-long TV gigs—would offer a ride in his car provided by NBC.
He was among the most valuable souls who escorted me through a half-century of sports journalism, all those models of ethics and persistence, purveyors of history and contacts, practitioners of what old sportswriter Dan Jenkins once described as "literature in a hurry."
Plus, Collins was good company. He was entirely too knowledgeable—tennis' most authoritative voice and on a first-name basis with generations of players and officials; tennis royalty, really—to kibitz with us commoners. But he did, as equals.
It was from Collins that I learned about Richard Norris Williams, the Titanic survivor who later won two U.S. championships. And about fashion throwback Trey Waltke, a Californian who in 1983 wore long flannel pants and long-sleeved, white button-down shirt at Wimbledon against former champion Stan Smith. (And won.) It was Collins who pointed me—and so many others—toward the coaches and former players who could discuss the sport's trends, technology, rules, international hotspots and foibles.
After taking a fall in his New York hotel during the 2011 U.S. Open, which resulted in a ruptured quadriceps tendon that required 10 surgical procedures, Collins disappeared from tennis press rooms, creating a decided vacuum of knowledge and just plain fun.
Last September, when U.S. Tennis Association poohbahs officially christened the Flushing Meadows press center the "Bud Collins U.S. Open Media Center," Bud briefly appeared—in a wheelchair, speaking barely in a whisper—for the honor.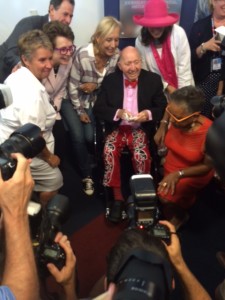 Superstars Billie Jean King and Martina Navratilova were among the players, shakers and movers who greeted Collins that day, followed by fellow tennis journalists. It was obvious that Collins was struggling a bit to identify all the old faces, an incongruous reversal for a man so long the master of recalling every name and detail.
Several of us said, "I'm not sure he knows me anymore. But I have to say 'hello.' And 'thanks.'"