(It's an Olympic year, a we-are-the-world reminder.)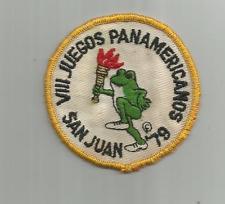 Call me unworldly. Some years ago, a driver pulled alongside my rented car late one summer evening at a stoplight in San Juan, Puerto Rico. I was on the island to cover the 1979 Pan American Games, the so-called Western Hemisphere Olympics, dipping a toe into the international sports waters for the first time.
From that driver, through his open window: "Que hora es?"
From me: A blank stare, and, "Uhhhhh…"
Again, politely: "Que hora es, por favor?"
Again, baffled, and with elaborate, nonsensical hand motions: "Uhhhhh….I'm sorry. I….I don't understand…."
"Ah," he said, and rephrased the question in perfect English: "Do you have the time?"
It may be the first lesson of travel beyond these shores that we Yanks, lucky enough to be born in the Land of the Free and the Home of the Brave, are not exceptional in every way. Just days into that Pan Am assignment, I discovered my own linguistic shortcomings in comparison to the natives, as well as American gymnastics officials' execution of a graceless loophole around failure, and the very embodiment of the Ugly American in U.S. basketball coach Bobby Knight.
Is winning really the only thing? In the case of the gymnasts, U.S. officials purposely sent only four athletes apiece for the women's and men's competitions, aware that five were necessary for team scoring. Which meant they would compete without any danger of losing.
U.S. 800-meter runner James Robinson, awaiting a judge's decision on whether he illegally impeded an opponent, grumbled, "The Americans are always getting screwed. I won't be surprised if I get screwed out of the gold." In fact, Robinson was awarded the victory. In fact, many observers—including several from the U.S.—thought Robinson indeed merited a disqualification.
As the Games played out, under the swaying Puerto Rican palms and, in some cases, at competition venues overlooking the blue Atlantic, even a prominent U.S. journalist, aghast at incidents of personal discomfort and imperfection, was guilty of casting aspersions. Washington Post columnist Thomas Boswell's sometimes snarky reports—not all based in fact—of administrative and logistical foul-ups, moved Puerto Rican Governor Carlos Romero Marcelo to publicly denounce Boswell's "racist tone."
(Full disclosure: There were some blunders, traffic issues and miscommunications. And thank goodness for the vending machines in the basement of my motel, with heated cans of Chef Boyadee ravioli to provide life-saving 2 a.m. sustenance when nothing else was available. But my own editor, Dick Sandler, wisely cautioned me to consider the bigger picture and keep the less consequential inadequecies in context, and out of the newspaper. Sure enough, significantly larger organizational snafus and official arrogance were yet to come in my international missions—most notably on the home turf of the world's greatest superpower, during the 1996 Atlanta Olympics.)
Particularly ironic, amid all the lowly foreigner allusions tossed around San Juan in '79, was an apparent ignorance among U.S. visitors that Puerto Rico is one of us, a U.S. Commonwealth; that, while they have their own culture and language, Puerto Ricans are U.S. citizens. They just happen to have autonomous athletic teams (many stocked with players raised and based somewhere in the States).
There are, of course, knuckleheads extant in every part of this big, round ball upon which we live. But some of them are "us," as well as a few of "them." Beginning with that Puerto Rican adventure, and through many subsequent trips for pre-event and competition coverage of 11 Olympics Games as well as a handful of other global sports happenings, I became convinced that assumptions of superiority, simply based on birth in the U.S. of A., can be woefully misguided. (I also came to appreciate the wisdom of at least attempting a few phrases and greetings in the local tongues.)
By the time I had successfully navigated two other non-U.S.-mainland Pan Am Games and right to my last Olympics, the 2006 Turin Winter Games, it was abundantly clear that neither competence nor grace-under-pressure is the province a singular culture. And that an only-winning-matters temperament is neither attractive nor especially admirable.
Among the embarrassments occasionally generated by U.S. jocks on the international stage was the trashing of two rooms at the 1998 Nagano athletes' village by members of America's ice hockey team after their quarterfinal upset loss to the Czechs. That was the first time NHL pros participated in the Olympics and the U.S. team, laboring under the assumption of gold-medal entitlement, miserably failed the red-face test. Keith Tkachuk proclaimed their Olympic participation "a waste of time" and joined teammates in a code of silence, refusing to cooperate with officials investigating the incident.
At the 1988 Seoul Olympics, U.S. swimmers Troy Dalbey and Douglas Gjertsen, relay gold medalists, somehow escaped criminal charges after stealing an $860 decorative lion's-head carving from a local hotel and lamely acknowledging nothing more sinister than "boyish exuberance."
Uhhhhh….I'm sorry. I….I don't understand….
Happily, it turns out, there is a majority of chivalrous U.S. folks at these global gatherings who are able to grasp the concept of being a good guest. And appreciative of the experience. In San Juan in '79, that included a 17-year-old boxer from Jackson, Tenn., named Jackie Beard, who proclaimed himself "glad I've come. Who from my hometown has ever gotten the chance to come to the Pam Am Games and represent his country, and even had a chance to win the gold medal?"—which he did.
Regrettably, though, the news magnet—the Puerto Rican Games' headliner—was the pompous, culturally clueless Knight, true to his us-against-them colors and cited in Sports Illustrated's coverage for "gross incivility." Knight was ejected from the Americans' first game of the Pan Am tournament for vehemently arguing calls during a 35-point victory, reprimanded by international basketball officials, arrested and charged in a heated argument with a local policemen, accused of directing demeaning slurs at the women's team from Brazil and dismissive of Governor Romero when the latter attempted to defuse any thoughts of a home-court conspiracy against the U.S. players. Through it all, Knight took a perverse pride in blustering that he was "not a diplomat," made it clear he would not speak to Puerto Rican reporters, cursed the locals and belittled them with, "All they know how to do on this damn island is grow bananas."
He was off-base there, too; Puerto Rico's economy for decades had been based on a multi-faceted industry and tourism, and before that, sugar cane and coffee. Yes, they had no bananas.
"You do not deserve respect," Gerraro Marchand, Puerto Rico's delegate to the international basketball federation, told Knight at the conclusion of the Games. "You treat us like dirt. You have said nothing but bad things since you got here. You are an embarrassment to America. Our country."
Even worse, Knight—whose University of Indiana teams were college juggernauts—was elevated to the 1984 Olympic head coaching position by U.S. basketball officials who defended him as "a coach of great renown" in spite of public off-color comments he repeated in paid speeches after his departure from San Juan. "When that plane was taxiing on the runway and taking off," Knight told attendees at one rubber-chicken appearance, "I stood up, unzipped my pants, lowered my shorts and turned my bare ass to the window of that plane—because that's the last thing I wanted those people to see of me."
The best I can surmise, as a patriot of international brotherhood nevertheless verbally handicapped, an appropriate response to the dark and whining Knight would be….
Hasta nunca. I hope never to see you again.
Or: Y que no ya no regrese. And don't come back. (Loosely: Good riddance.)