Public dancing in China seems an improbable pursuit to come under the heading of "sport." But that popular routine, having stirred up controversy among some of the populace, suddenly is targeted for regulation through the Chinese government's General Administration of Sport, according to a Wednesday report in the New York Times.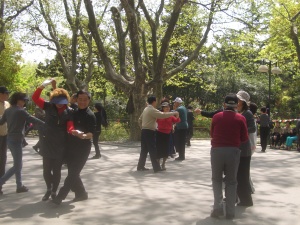 To an uninformed Westerner who observed such frolic during a 2011 trip to Shanghai, this is surprising on a couple of levels. First of all, the activity is more diversion or recreation than some competitive physical enterprise. And, beyond that, virtually all of the participants—just having an honest good time—appear more in line for some sort of senior discount than administrative sanction.
In fact, they are widely known as "dancing grannies." Only a small percentage of the shuffling hoofers I witnessed were male and an even smaller percentage were not-yet-eligible for retirement. At serene Fuxing Park in the pleasant section of Shanghai known as the French Concession, there was a daily gathering of small crowds—seemingly impromptu, but always in the same section of the park—grouping themselves around boom boxes that played an eclectic blend of tunes.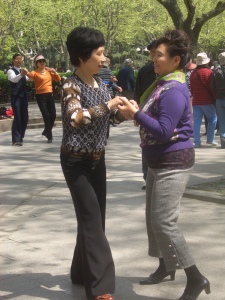 Sometimes the dancers' styles even matched the music though, just as likely, some would be tangoing to soft rock, or waltzing to disco. There were passer-by dancers, who would join the group only briefly and then move on, and committed terpsichoreans, who continued to strut their stuff—finding different partners or not—as long as there was music.
Other pastimes were scattered through the park's various stations, each apparently reserved on a regular basis for a specific hobby preferred by greying residents. Men playing cards here, a group of folks singing opera there, not far from a knot of people engaged in tai chi (that slow-motion exercise that involves deep breathing and flowing, martial-arts poses) and, just down a path, others huddled around a speaker to engage in a little karaoke. There also was a regular outpost for a sort of banner-waving choreography, similar to those flag corps that lead marching bands.
In short, the park was alive with energy. And on walks around the city in the evening, it was impossible not to pass other knots of dancing grannies on lots and side streets.
The story from China now is that some residents object to the amplified music central to public dancing. (It was never clear, by the way, whether the music was supplied by a designated person, or a duty somehow rotated, or provided purely by chance.)
So the General Administration of Sport, through its mass-fitness department and in conjunction with the Ministry of Culture, is poised to do something—though it isn't clear what. Reports that standards would be issued on what type of public dancing would be allowed appear to miss the point of the noise complaints.
In the end, shouldn't the government be a sport about this? Those dancing grannies seemed a lot livelier, and smiley-er, than sedentary sorts all too common in so many societies (including ours). The English poet Lord Byron said, "On with the dance! Let joy be unconfined."
Revolutionary, I know.