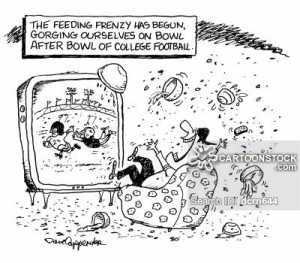 It's a zeitgeisty thing to have the holiday season filled—stuffed, crammed, clogged, jampacked—with college football bowl games. But we are up to 40 major-college bowls this season, and even some of the sport's insiders have begun to wonder about a form of grid inflation.
Because, while there is no danger of running out such events, we are running out of blue-ribbon teams to play them.
Three of this winter's 80 bowl teams—that's almost two-thirds of the 128 schools that field maximum-scholarship teams—have losing records (Minnesota, Nebraska and San Jose State). Another 12 also are not above .500 after scratching out 6-6 seasons.
Only 18 teams are either conference or conference-division champions (though two independents, 10-2 Notre Dame and 9-3 BYU, could be added to that level of accomplishment). One bowl, the first-year Arizona Bowl, was so desperate for participants that it had to settle for two middling teams in the same conference, fellow Mountain West members Colorado State and Nevada. (One of 7-5 Colorado State's losses was to that below-par Minnesota outfit, and Nevada is among the crowd of 6-6 teams.)
"Clearly," Mountain West commissioner Craig Thompson said, "the system is broken."
Big 12 commissioner Bob Bowlsby is on record acknowledging that "we do have too many bowl games and have more bowl games waiting in the wings." According to Atlantic Coast Conference commissioner John Swofford, his league's athletic directors would prefer teams be at least 7-5 to be bowl eligible.
Even NCAA president Mark Emmert, the primary-care official for college football, last week cautioned that his organization members "are going to have to figure out what's the purpose of bowl games? Is it a reward for a successful season, or is it just another game that we're going to provide an opportunity for?"
Behind that curtain of concern, though, are some financial and competitive realities that don't appear likely to change:
ESPN, which will televise 34 of the 40 bowls—plus the national championship game—wants the programming and the advertising riches that brings. (ESPN, in fact, owns 13 of the bowls through its ESPN Events subsidiary.)
Athletic departments and conferences want the payouts for bowl participation, which last year ranged from $325,000 per team in Boise's Famous Idaho Potato Bowl to $18 million each for contestants in long-established bowls such as the Rose, Orange, Sugar and Cotton.
Coaches want the added game experience for players with remaining eligibility, plus the recruiting-tool visibility. Not to mention the automatic bonuses that schools routinely spread throughout their staffs. (The Seattle Times recently detailed how Washington State has guaranteed head coach Mike Leach an additional $75,000 for getting his team to the Sun Bowl, while Leach's assistant coaches will receive from $15,000 to $35,000 each, and athletic director Bill Moos $50,000.)
No surprise: Money was the motivation when all this started with the 1902 Rose Bowl, which leaned on college football's growing popularity as a way to finance the annual Tournament of Roses Parade, then 12 years old. The final score was so lopsided—Michigan 49, Stanford 0—that the Rose Tournament's game was held in abeyance until 1916. But, by 1935, the Orange and Sugar Bowls had appeared, and the Cotton in '37.
Only Major League Baseball was more popular and more widespread than college football then, though perennial superpower Notre Dame had stopped accepting bowl invitations after winning the 1925 Rose and didn't lift its self-imposed ban on the post-season until 1970.
There was some assertion that Notre Dame chose not to extend its seasons with bowl appearances because the additional games didn't jive with the primary purpose of education. But that quaint notion was quickly discarded as big money increasingly came with bowl appearances and the Associated Press decided, in 1968, to discontinue crowning its national champion prior to the bowl season.
With that, bowl games (of which there were only 10 in 1969) suddenly evolved from holiday exhibitions to match-ups with we're-No. 1-implications. And continued to multiply, sending all on this Road to Excess. Civic leaders want the prestige and the free publicity of staging bowl games. Conferences want pre-arranged tie-ins with bowls for a slice of the lucre. Corporations want bowls as billboards. The Quick Lane Bowl. The GoDaddy Bowl. The Zaxbys Heart of Dallas Bowl. The AdvoCare V100 Texas Bowl. The Foster Farms Bowl. The TaxSlayer Bowl….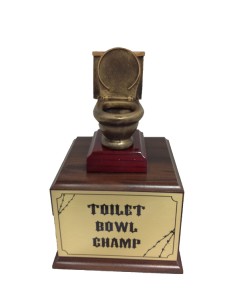 An irony is that the year-old, four-team national championship tournament has clearly diluted the significance of all but the two bowls serving as championship semifinal sites. (This season, those are the Orange and Cotton). And that is just as predicted in 2007 by UCLA administrator John Sandbrook, who first studied a possible playoff for an NCAA committee in 1994 and provided an update on the subject for the NCAA-watchdog Knight Commission in 2004. A formalized playoff for No. 1, Sandbrook said then, would "overtake" the traditional bowl format.
Then again, it hasn't slowed a more-of-less-accomplished-teams trend. And what are the odds that some player on one of those under-.500 teams, giddy to win a bowl and finish a humdrum 6-7, will then run around proclaiming, "We're No. 1"?